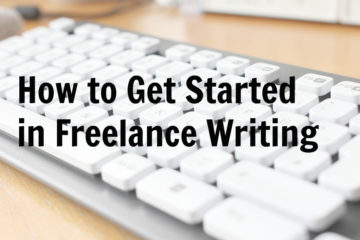 Freelance writing can be one of the best ways to make extra money.
Unfortunately, for a variety of reasons it isn't easy to get started in freelance writing.
As someone who has hired freelance writers as well as gets paid to freelance write, I have some insight into freelance writing.
Today I want to talk specifically about how to get started in freelance writing. Hopefully by the end of this post you will have some direction as to what you need to do to land your first freelance writing job.
What I look for when hiring freelance writers
I think going through some of the things I look for when I'm hiring a freelance writer is a great way to kick off this post. After all, the goal of those looking to get started in freelance writing is to get jobs.
When I'm looking to hire someone as a freelance writer I'm looking for a few things:
Writing Samples – This is the roadblock that many potential freelance writers can't get over. There's zero chance I'm going to hire someone who has no published posts somewhere on the inter. I'm not looking for writing samples sent in word docs, either, because it's too easy to plagiarize.

In the next section I'll give some specific tips on how to overcome this roadblock.
Online Presence – Having a writer who has an online presence is valuable to me as an editor. I have even worked in Facebook/Twitter shares as part of my writer's contracts because it immediately puts the post in front of people who otherwise wouldn't see it. Twitter, Pinterest, and pretty much every other social network can also drive a lot of traffic to a site.
Make My Life Easy – When hiring a freelance writer I'm not just looking for quality content. I'm looking for someone to make my life easier! If you have experience with WordPress and are able to make your post formatted correctly, have no spelling errors, etc. that's some serious value for the content manager or in my case, the blog owner.

This could easily translate to other jobs. In pretty much every job I've had I always try to think of how I can make my manager's life easier. Typically that involves turning in a finished product that needs little to no revision and is accurate the first time.
These are some of the things I'm looking for when I'm hiring a freelance writer. I should also mention cost per post, but that goes without saying: the cheaper the better.
Getting writing samples online
As I mentioned earlier, having samples of your work online is one of the most important assets that freelance writers can have. I personally don't understand how anyone would get hired to freelance write unless they have published work.
But how do you get your stuff published online?
Yes I get it. It's the same problem college grads have when they are applying to jobs and seemingly all of them say "1+ year of relevant work experience." How do you get that initial experience?
Luckily it's easier to get your work published than it is to get your foot in the door in finance, marketing, or some other field.
Start a Blog – It sounds cliche to tell people to start a blog to get started in freelance writing, but it's by far the most effective way to break into freelance writing. For the most part I won't even consider someone for a freelance writing job unless they have their own personal blog.

I started a crappy-looking political blog in college but was able to land a freelance job at a bigger political blog solely from being "discovered" via my blog. I also was able to land a freelance marketing/SEO through my political blog. And trust me, this blog was nothing to brag about.

When you have your own blog you immediately have a huge collection of sample work for your first freelance job. You will also likely get contacted by people looking to hire you. I never even mentioned on my blog I was looking for freelance work but still landed a couple of quality freelance gigs. I said no to many more because they didn't reach the minimum I was willing to write for.
Network & Guest Post – Cat is a freelance writer who wrote on my blog weekly for well over a year. She initially reached out to me saying she was looking for freelance writing jobs. If I wasn't hiring, she said she is always willing to guest post for free. I took her up on the guest post and ended up hiring her a couple months later to contribute once a week to the site. Not to get your hopes up, but she now freelance writes and coaches bloggers full-time. She also has a course for people looking to make a side- or full-time income writing for blogs.

Stefanie, another personal finance blogger, recently made a great point in the comments of one of my previous blog posts. She said she has gotten a number of freelance writing jobs from people who started as bloggers and became content managers for bigger websites. You never know how networking will pay off.
The easiest way to get started in freelance writing is to start a blog in the niche that you want to write about. For me that's politics and personal finance. For you it may be college football, cooking, or living as a Vegan. Build a blog and online presence. If you don't start getting offers, start doing some outreach to other website owners. If you're willing to put in the time and effort you can become a freelance writer.
___________________
Hopefully by reading this post you gained some useful, practical advice on how to get started in freelance writing.
It takes a lot of work initially, but if you're anything like me it'll be worth it. There's something awesome about getting paid to write. I can't think of a better side hustle.
If you have any questions about freelance writing, leave them in the comments. Also for my own enjoyment, let me know what niche you want to freelance in or what niche you already write in.
If you already are making money freelancing leave your best tip for others who want to get started in freelance writing.
___________________
Photo by Christian Schnettelker