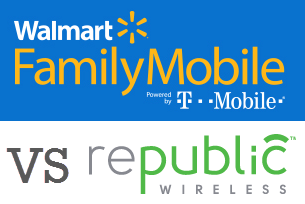 When it comes to low cost no-contract phone plans, Republic Wireless and Walmart Family Mobile are two plans that come to mind. But which is better?
Republic Wireless and Walmart Family Mobile have a lot in common, including no-contract plans that you can start and cancel at any time. They also offer "unlimited" data plans for a relatively low price (there is a catch, though – more on that later).
Having no-contract is a huge benefit in my opinion. Being able to deliver a no-contract plan at a low price is even more impressive. Both of these plans accomplish that, but there are some differences.
Today I'll compare the two plans based on a variety of metrics including price, coverage, and phone selection.
Phone Selection
When it comes to phone selection, Republic Wireless is lacking. With that being said, the phones they do allow you to choose from: Moto X ($299), Build your own Moto X (Starting at $349), and Moto G ($149), are pretty good phones. They run on Android and have all the features that the average user would want in a phone.
Walmart Family Mobile has a much wider selection of phones, as can be seen here. They have the LG Optimus L90 as well as the Samsung Galaxy SIII and S4. There are some other, less expensive options but I'm pretty sure most people will buy the LG L90 or the Galaxy.
Advantage: Walmart Family Mobile
Network
Republic Wireless encourages people to use WiFi to make calls and use data. This has actually been a big part of their value proposition: not only do you have service wherever you get coverage, you also get service wherever there is a wireless network.
I don't really see this as a special benefit of Republic Wireless, though. Pretty much ANY plan can be used over WiFi networks, so there isn't value added by saying your plans can be used over a WiFi network.
I wish I could speak to Republic Wireless' coverage, but I got this when I went to their coverage map: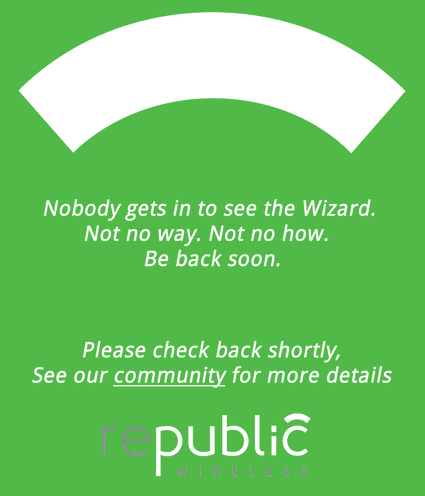 Walmart Family Mobile has one big advantage in the service area: it's on T-Mobile's network. I'm 99.9% sure that Walmart Family Mobile is essentially just T-Mobile using the Walmart brand as a way to attract people looking for cheap data plans. It seems to be working, even though the Walmart brand turns me off more than makes me want to jump in.
Anyway, the point is that Walmart Family Mobile is going to get the same coverage you would get if you had T-Mobile. It's the same network. You can check coverage in your local area here.
Oh – and you can use WiFi for data, calls, etc. Just like any other plan.
Advantage: Walmart Family Mobile
Pricing
While both Republic Wireless and Walmart Family Mobile have plans that are less expensive, I want to focus on the unlimited data plans they offer.
Walmart Family Mobile offers an unlimited talk, text, and data plan for $40 a month. With that $40 you get 3GB of data per month. If you go past that 3GB you have to purchase additional data or your non-WiFi service is throttled to 2G until the end of the plan month.
I'm a very heavy user of data and I have never gone over 3GB. So in their defense, this is an "unlimited" 4G plan for 99.9% of users.
Republic Wireless offers an unlimited talk, text, and data plan for…$40 a month. They offer 5GB before throttling you, though, so they have a slight advantage over Walmart Family Mobile. I think the advantage is negligible, though, unless you are an extreme user of data (and I mean extreme).
Walmart Family Mobile allows you to add additional lines for $35 a month. Keep in mind, though, the phone numbers must be in the same area code. This could be a very affordable option for families.
In summary: the pricing is essentially the same.
Advantage: Toss Up
Which is Better?
I think both Walmart Family Mobile and Republic Wireless have good plans. I don't think you could go "wrong" with either of them.
It's hard to argue with the 5GB of data per month that Republic Wireless provides. With that being said, I am a heavy user of my data and I have never gone over 3GB. Remember, Walmart Family Mobile also allows for 3GB of data usage, so if you never go over 3GB of data you don't have to factor in that variable.
I use Walmart Family Mobile and don't really see any incentive to change to Republic Wireless. Again, you can't go wrong with either of them and I think they are both good choices for no-contract unlimited data plans.
Check out Republic Wireless' and Walmart Family Mobile's websites for more information on their plans, phones, and service.
_________________________
Have you looked into No-Contract cell phone plans? Would you ever sign up for Republic Wireless or Walmart Family Mobile?
_________________________