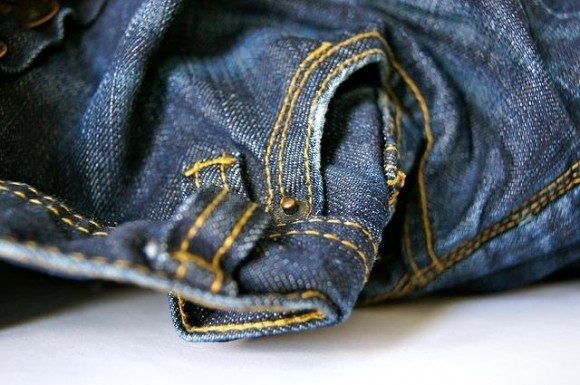 Today's post is from our regular Wednesday contributor, Cat.
I always find it interesting to talk to couples to see who wears the (budgeting) pants in the relationship.
I actually have a lot of friends who really see eye to eye with finances. They are usually frugal couples who fight the good fight together to set themselves up for a lifetime of financial freedom.
I have one set of friends in particular who both went to grad school but amassed a huge savings living in one of the most expensive areas of the country. They are finally finished with school, working, and own their first home. I always love seeing couples who work together like that!
In my own little family, somehow along the way, I came to wear the budgeting pants. When we first got married, I remember my husband giving me a budget and us trying to save for those early years of married life. He drew it all up himself and figured it all out, and I stuck to it.
Then, when he got so much busier with medical school and studying, and I got more involved in the personal finance world through my blog, the budget became my job. Then, paying the bills, calling credit card companies, checking receipts, etc. etc. etc. became my job too. Like I said, somewhere along the way, I took control of all of our day to day finances. While he still makes the best suggestions for long term finances, I'm slowly learning more about investing and can take part in those discussions better too.
My husband and I have gone through so many phases when it comes to money and our relationship. We don't necessarily argue about the budget, at least not with any yelling or intensity, but there are times when I feel like I'm the "bad guy" or the only person responsible for bringing up the budget and checking in on our status. I guess what I'm saying is that when you wear the pants when it comes to the budget, you're also sort of the unintentional police officer of the money, which isn't always the most fun job.
Overall, I find that couples who feel exactly the same about money are pretty rare. I know there are a few here in the pf space, but most of the time you're going to have slightly different views of how money should be spent and/or saved.
Oh and it's important to note that just because I wear the budgeting pants doesn't mean I'm the boss lady of anything and everything around here. Mostly we work as a team but my husband has his own areas – like cooking, navigating, and in general planning – that he's especially good at.
I'm interested to see in the comments who is in charge of the budget at your house. Is it you, your spouse, or do you really feel like you both have an equal say?
Also, what about your friends? Do you have friends where one person is definitely the pants-wearer when it comes to money?
P.S. I didn't count how many times I wrote the word pants in this post, but I'm guessing it's a lot. Pants. (Editors note: 8)