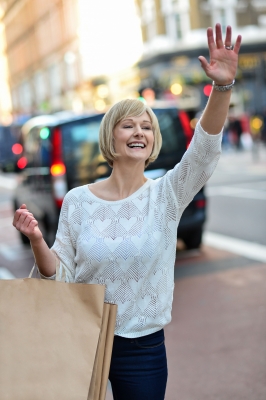 Today's post is from our regular Wednesday contributor, Cat.
Don't be fooled; spending can easily turn into an addiction. It seems like it's harmless since everyone spends money at some point on something, but for some extreme spenders, it can be a compulsion that can be hard to stop.
Many spenders feel a need to spend money as a pick me up, to make themselves feel better. Some people just love shopping, even if they are consistently finding deals.
It's important to remember that spending excessively in any form, even if it's at the thrift store, really does add up over time. It's far better to put your money into investments instead of buying an outfit that doesn't fit quite right just because it was on sale.
If you are a spender who wants to be frugal, here are some steps to take:
1) Stop Hanging Around at the Mall!
Before I moved to Grenada, my husband and I would always walk around the mall on a Saturday. It was just something to do when we were bored. Looking back, we should have walked around at a park or on a nature trail. Instead, we chose to window shop and sometimes actually shop.
Even if we didn't buy anything, we still saw things we wanted which made us feel badly about our money situation or tempted us to use our credit cards. It's no wonder we flew to Grenada with $6,000 of credit card debt, which took me 18 months to pay off.
2) Track Your Spending
It's a method that has worked for countless people. It's just tedious and so a lot of people start doing it but then give up. If you write down everything you spend, then you're so much less likely to swipe your card or get cash out of your wallet. Heavy spenders typically have no idea how much money they spend. They just go from store to store buying up what they want. At the end of the day, they're typically surprised by their credit card bills.
If you've ever seen the Shopaholic movie, this is the perfect example. She constantly thinks someone stole her credit card because she doesn't even remember using it to buy certain things!
3) Surround Yourself With Like Minded People
Support is everything, whether you're trying to get out of debt or save money. If you're constantly spending time with your friends who have Daddy's plastic, then you're going to feel like you want to keep up. Instead, seek out the company of others like you who are in your stage of life. The more time you spend with level headed people who are also frugal and don't overshop, the more you'll emulate their habits.
I know the above might sound a little harsh, but the truth is breaking any habit isn't easy whether it's something like biting your nails or a spending habit. The good news is, though, that if you break your shopping habit and come over to the frugal side, you have a life of financial stability and happiness waiting for you!
Do you have a shopping habit? Or, do you know someone who does? Any tips to help spenders to become frugal?
____________
Photo Credit: www.FreeDigitalPhotos.ne