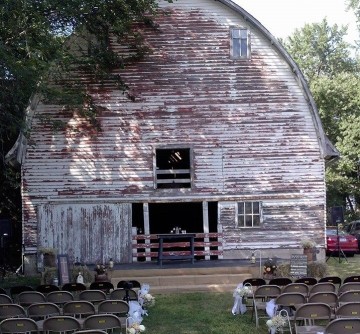 Welcome to the Weekly Quick Hits Roundup!
If you're new here, every week I write a weekly wrap-up of things that were going on here at Young Adult Money, a few personal updates/thoughts, and finally a few posts I read this week that I thought were worth sharing.
If you don't already, please considering Following us on Twitter, Liking us on Facebook, and Following us on Pinterest.
We also have our giveaway roundup every Friday. This Friday there are 80 giveaways listed this week that end today (8/22) through next Thursday (8/28).
_____________________________________________________________________
Happy Friday everyone!
As you may already know, I was at a wedding last weekend. The wedding took place on a farm and through the time and effort of many people ended up being an awesome wedding.
The picture I included at the top of this post is one I took at the wedding. There was a very old barn on the property. I'm not sure how old the barn was, but it had to be in the 80+ range. It had been neglected as it hasn't been used in decades. It ended up making a truly stunning backdrop for the wedding.
I had a couple of days off from work this week so I've been getting some work done around the house, as well as writing blog posts.
I have a few fun things planned this weekend including heading to the casino to play some poker. I used to play a ton of poker during college, but have only played a few times the past couple years. I also will be making to the Minnesota State Fair, which is the biggest fair in the United States.
Below are the posts we published this week:
Posts of the Week:
As usual, here are 5 posts that I enjoyed this week from around the blogosphere:
____________
How was your week? Anything fun planned this weekend? Do you go to your State/County/City fair?
____________
Photo by m01229