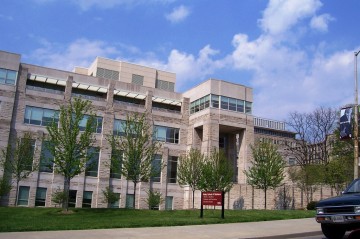 I think that in almost every situation it makes sense to pay the minimum on student loans.
Hear me out before you start firing off a comment about what terrible advice this is.
If the goal is to build wealth – and I don't know many people who don't have that as a goal – it makes sense to take advantage of things that help you improve your wealth.
Whether it's saving money on travel through travel hacking, consistently clipping coupons to save money on groceries, diversifying your income through dividends, or something else, it's important to recognize opportunities to build wealth.
I think student loans offer a unique opportunity for people to leverage their debt to build wealth. I won't talk about whether or not you should take out student loans because that's simply not my audience. People who read this blog have already gone to school and likely have student loans.
If you don't have student loans you can apply this to other debt, but I used student loans in this example because the interest rate fits nicely into my model. Plus the site is called "Young Adult Money" so I'm assuming a ton of people who make their way here are dealing with student loan repayment.
I want to start by establishing some assumptions. In a previous post where I advocated not paying more than the minimum I got about 47 negative comments where people disagreed with me and about 3 that agreed with me. That's not a great ratio. This time around, I'll save a lot of people time because I'll take a few "counter-arguments" off the table from the get-go.
Here's the assumptions:
1) An 8% rate of return on money invested in the stock market
I could easily use 9% instead of 8% and still have plenty of support for using that rate. Instead I use 8% as a "conservative" measure of average market return. I spent an entire post building an argument for using this rate in financial calculations, so if you have an issue with it please head to that post to complain.
2) A less-than 8% rate on student loans
In this model I'm assuming less than an 8% return. If your student loans are higher than an 8% interest rate it very well could make sense for you to pay more than the minimum. I haven't met anyone with student loans that are higher than 8%, though, so for all practical purposes we will assume student loan debt is at a rate lower than 8%.
3) Just math, no psychology or emotion
It's undeniable that personal finance is an emotional and psychological topic. There's a reason that Dave Ramsey advocates paying down your smallest debt first instead of the one with the highest interest rate, and it has a lot more to do with emotions than financial equations.
If you strip out the emotion and psychology, though, you are left with a financial equation. If the other assumptions in this model are accepted, you have the variables needed for the financial equation. There's not much more to it than that.
4) Instead of putting extra money towards student loans, it's invested
Yes, it's pivotal for this equation that you siphon the money that you would put towards your student loans into the stock market. Everyone's budget, finances, and lifestyle varies. I'm not pretending that these assumptions apply to everyone.
5) 10 year payback time frame
Student loans vary in the amount of time that you can have them out. This model does not factor in income-adjusted repayment or loan deferrals. I use a 10 year repayment time frame because that's a fairly typical time frame for student loan repayment.
__________________________________________
So now that we have all the assumptions laid out let's run the numbers. Using a template that was (greatly) modified from my 401k cash-out spreadsheet we can see how the numbers stack up.
To start, you need to plug the following numbers:
Amount left on loan
Calculated Monthly Payment
Additional Payment/Investment
Loan Interest Rate
Stock Market Rate of Return
Years Left on Loan
Months Left on Loan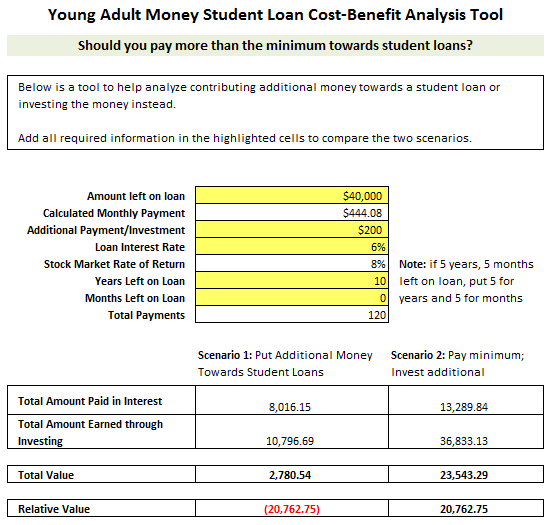 For this example I used a 10 year, $40k loan at a 6% interest rate. I plug a sample $200 extra payment per month. In the model I have two amortization tables on two separate tabs. The first amortization adds an additional $200 payment each month to the minimum loan payment.
Once the loan is gone, it starts putting $200 into an investment account. This allows for an apples-to-apples comparison to the second amortization table, which only pays the minimum on the loan and puts $200/month in an investment account.
Taking the ending investment balance (monthly deposits plus interest) minus the total interest paid, we can see that it can be much more valuable to not put anything additional towards the loan and instead invest it. In fact, you are missing out on $20,000 of value if you decide to pay additional money towards your student loan instead of paying the minimum and investing the rest:

It's not a perfect model, but I think it will help visualize how different scenarios will pay off (or not pay off).
You can download the spreadsheet here and plug the numbers however you want to try different scenarios.
The conclusion we can take from this is that it's hard to deny the fact that paying the minimum on your loans and throwing anything extra into the stock market is clearly superior to paying down loans faster than you are required to.
If you have student loans, do you pay the minimum or more than the minimum? Do you factor in relative market return if you pay more than the minimum or is it an emotional/psychological reason? If you don't have student loans, would you apply this theory to some other debt you have such as a mortgage?
Final Note: Before a bunch of people comment that it's better to not take out student loans in the first place, realize that 99.9% of people who will read this post are no longer in school and either have student debt or don't have student debt. It's not productive – at least not in this forum – the merits of going into debt to fund college or not going into debt to fund a college.
____________
Photo by Jeff Hart