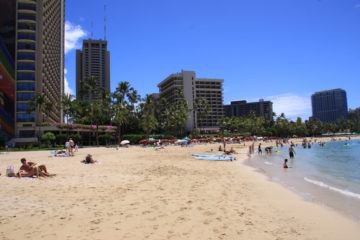 Wakiki Beach in Hawaii is the pic of the week.

Welcome to the Weekly Quick Hits Roundup!
If you're new here, every week I write a weekly wrap-up of things that were going on here at Young Adult Money, a few personal updates/thoughts, and finally a few posts I read this week that I thought were worth sharing.
If you don't already, please considering Following us on Twitter, Liking us on Facebook, and Following us on Pinterest.
We also have our giveaway roundup every Friday. This Friday there are 113 giveaways listed this week that end today (7/25) through next Thursday (7/31).
_____________________________________________________________________
Happy Friday everyone!
While my wife does most of the work for our giveaway roundup, I do sometimes stumble across giveaways that I send to my wife to add to the list. This week I came across a particularly interesting one: a gun that's worth just under $1,000. If you want to see it, head over to today's giveaway roundup and look at the first one listed under 7/31.
I came across this because I'm on a Ron Paul-related email list.
Sidebar: I mentioned in the past that Ron Paul drastically changed my political and economic views and I'd highly recommend everyone look into his political positions, whether you agree with him or not.End Sidebar
Now, there are literally thousands of giveaways starting and ending every week. It would be impossible to know about them all. I had to believe that there haven't been TOO many – if any – politicians/political figures who have given away guns. I was a bit shocked to see that more than 25 politicans or political figures have given away guns. Now, some of these were raffles which technically aren't giveaways imo, but nevertheless it's many more than I would have imagined.
So I guess there's a first for everything. I'm now entered in a giveaway to win a gun.
I'm not opposed to owning a gun, but would only do it if I had a safe and proper training, which I have neither of. If I did win I'd have my friend who is very familiar with guns go with me to redeem it, and hopefully would be able to sell it the same day.
Anyway hopefully you found that story interesting. I have a wedding this weekend and I'm also going to the Twins game. We try to go every year with my grandpa, uncle, aunt, and cousins. I'm really not that into baseball this year, but my grandpa is a lifelong Twins fan and it's awesome how much he loves going to the games.
Below are the posts we published this week:
Posts of the Week:
As usual, here are 5 posts that I enjoyed this week from around the blogosphere:
Shannon from Financially Blonde talked about something that probably happens more than we think in Sleeping with the Boss
____________
What's the craziest thing you have seen being given away? Any fun plans this weekend? Anything strange happen to you this week?
____________
Photo by Steve Bozak