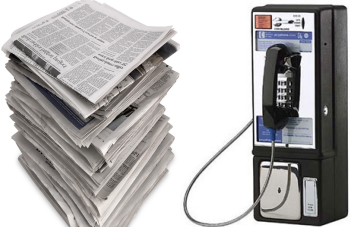 Over just the past ten or twenty years the world has gone through dramatic change. New technology has made certain technology obsolete, never to be seen again.
In the same way advancements in medicine and other fields have had a dramatic impact on the world and our everyday lives.
As I've mentioned in the past, I've been partnering with Rotary in their End Polio Now campaign. Polio is 99% eradicated, and would be only the second human disease ever to be wiped off the planet. I believe that we will be the last generation to see polio, but only with one final push through the efforts of philanthropy, organizations like Rotary and its partners, and finally everyday people like you and me.
For today's post I made a list of the top 10 things our generation will be the last to see. There are some things we know our generation will be the last to see – like phone books – and countless other things we don't (yet) know we will be the last to see.
Read our list and then we'll share some additional details of how you can help the campaign to make sure that we are the last generation to see polio.
10) Pay Phone
Even when I was in high school we had pay phones but I can't remember the last time I've seen one since then. Cell phones and new forms of communication via the internet will make these extinct in the (very) near future.
9) Tube TVs
I will admit to having a tube TV in my basement, but these heavy monstrosities will eventually become relics of the past.
8) Phone Books
It's hard to believe that in our day and age that phone books are still delivered. With the continued evolution of online search tools, even traditional phone books are starting to be found online. Plus, how many people do you know who don't have a landline?
7) Desktop Computers
Desktop computers – at least the large, clunky type – will continue to become smaller and smaller. Even laptops are morphing into lighter and more versatile machines.
6) Paperback Books
It may take some time before paperbacks become completely a thing of the past, but the low cost of storing a digital copy of a book will eventually push out the hardcover and paperback book market.
5) Chalkboards in Classrooms
Have you been in a classroom recently? Not only have most schools transitioned to white boards, new technology is making "smart boards" more and more common.
4) Print Newspapers
As much as people may like getting their daily or weekly print paper, as more and more people have tablets and other means to view the newspaper digitally the delivery expenses for newspapers will become unjustifiable.
3) DVDs
The trend in recent times has been a move towards streaming of movies and TV shows versus owning physical DVDs. Even if the future isn't streaming, we will likely one day buy 'digital' copies of movies and TV shows versus carrying around a physical DVD.
2) Cursive
Simply put, there is no need to learn cursive anymore. Perhaps people will still learn it to sign their name, but the days where children spent hours upon hours learning how to write every letter in cursive will be no more.
If you really need cursive, you can always just type it and select a cursive font ;)
1) Polio
Through the work of Rotary and its partners, we have seen polio cases reduced by 99%. Polio is a crippling disease that affects mainly children under 5, which attacks the nervous system and can cause paralysis. Polio is preventable and it's just a matter of getting vaccines in the hands of those who need them. With one final push polio can – and will – be eradicated within our generation. That's something to be excited about!
Now that we shared what we think our generation will be the last to see, we want to hear from you! Tell us what you think our generation will be the last to see. Share an instagram or twitter photo, a vine, video, or a tweet about what you think our generation will be the last to see and use the hashtag #Last2See. Using this hashtag will allow you to join with others who have voiced their support of the eradication of polio.
The top submissions could be featured on Rotary's endpolio.org website. Join @EndPolioNow on Tuesday, July 8 at 7:00 – 7:30pm CT for a Twitter Chat as we count down the top things that our generation will be the #last2see.
Thanks for joining with me in raising awareness and voicing support for making our generation the last to see polio.