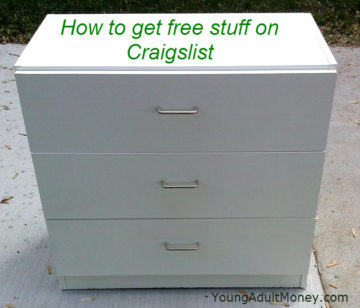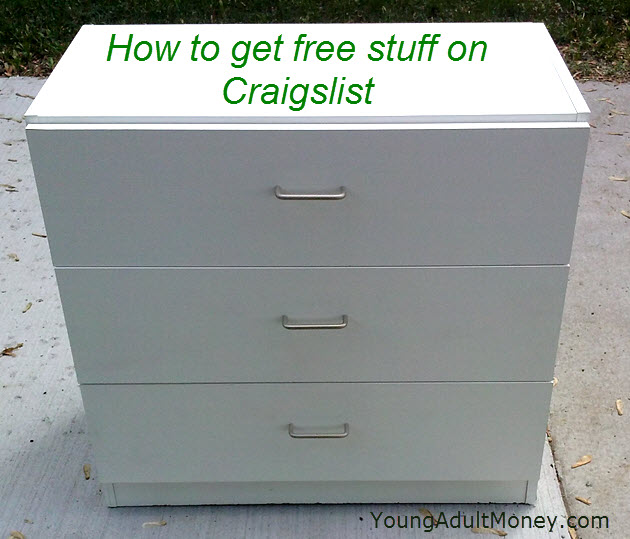 I was talking to a friend recently and found out that they got a high quality washer and dryer on Craigslist – for free.
I found out there was a lot of free stuff on Craigslist. A LOT of free stuff.
If you are trying to furnish a house, find some new appliances, or just trying to find free stuff, Craigslist is where you'll want to look.
The friend I mentioned got the washer/dryer from a wealthier suburb of Minneapolis-St. Paul. Wealthy suburb or not, there will always be people trying to get rid of things and won't charge you as long as you are willing to come pick it up.
The dresser in the picture above is something I got rid of – for free – on Craigslist. It was heavy and we didn't really need it. I put it out on the curb and posted a Craigslist ad. It was gone within a half hour.
To see free stuff that people listed on Craigslist, simply go to Craigslist and click on 'Free' under the 'For Sale' section: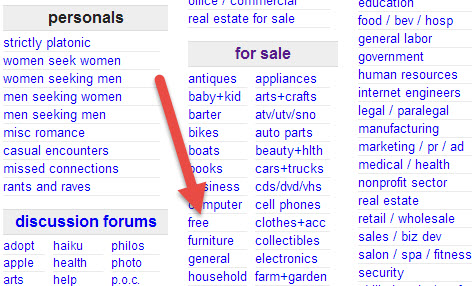 The best way to view stuff on Craigslist, at least free stuff, is through gallery view. There will be a decent amount of "junk" in the free stuff section, so it's best to disregard anything without a photo.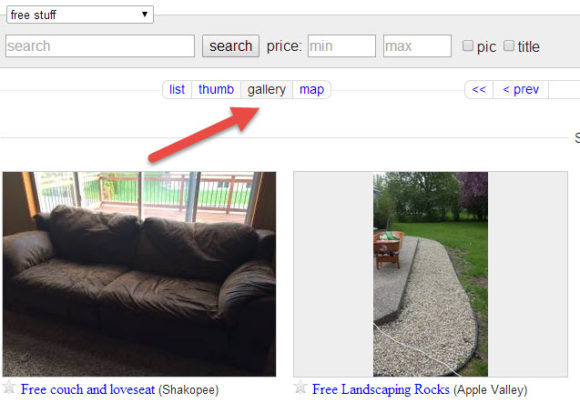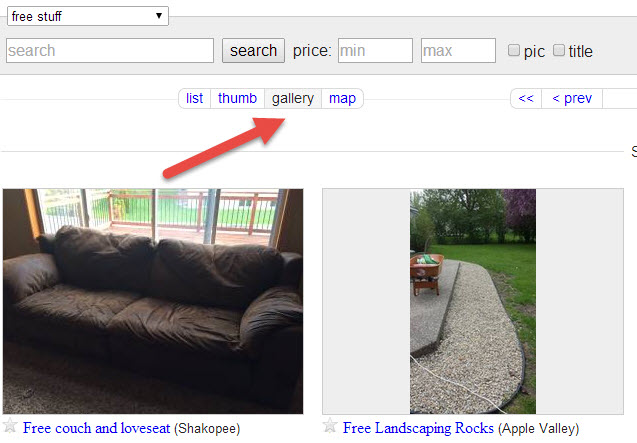 Remember the washer and dryer I mentioned earlier? They were given away by a couple living in one of the wealthier Minneapolis-St. Paul suburbs. There's a lot of people who aren't too worried about getting cash for old appliances, furniture, etc., but are happy to just get rid of it and get it in the hands of someone who can make use of it.
From quickly scrolling through the free stuff available in my area, I saw a wide variety of things.
Hot Tubs
Swing Sets
Firewood
Couches & Recliners
Entertainment Centers
Landscape Rock
Dirt
Bookshelves
Desks & other Office Furniture
Grills
Basketball Hoops
Bikes
Baby Supplies
Sinks
That was just a few things I saw, and oftentimes there were many listings for each of the things in the above list.
Besides quickly learning that there is a TON of stuff being given away for free on Craigslist, I had a few additional takeaways from my experience roaming the free section of Craigslist:
Lots of free stuff is heavy – You'll notice that there is a lot of free stuff available that is really heavy. Hot tubs, pianos, furniture, the list goes on. This stuff would be expensive to have removed, so having someone take it away for free is ideal. If you have access to a bigger vehicle or a trailer you can take advantage of this.
There's a lot of random free stuff – You never know what you'll find listed in the free section of Craigslist. Rollerblades, a Vince Carter poster, and a free rate cage are just some of the random things I saw.
Use Craigslist to get rid of your junk – In an ideal world you would get paid for things you are getting rid of by listing them on eBay, selling it at a garage sale, or listing it on Craigslist for money. If you have something that you don't think will sell, try listing it on Craigslist for free before trashing it. You never know who might find a use for it.
Have you ever gotten something for free on Craigslist? Have you ever listed anything for free on Craigslist?
____________
Photo by David Carlson