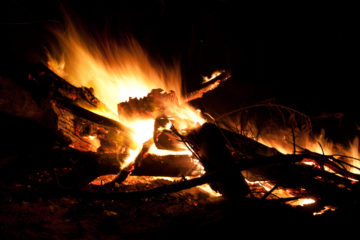 I think it's time for a Summer bonfire.
Welcome to the Weekly Quick Hits Roundup!
If you're new here, every week I write a weekly wrap-up of things that were going on here at Young Adult Money, a few personal updates/thoughts, and finally a few posts I read this week that I thought were worth sharing.
If you don't already, please considering Following us on Twitter, Liking us on Facebook, and Following us on Pinterest.
We also have our giveaway roundup every Friday. This Friday there are 146 giveaways listed this week that end today (6/13) through next Thursday (6/19).
_____________________________________________________________________
Happy Friday everyone!
Here are some updates, thoughts, and more:
FeeX contest results – I mentioned the past few weeks that I was competing for "most views" between the other bloggers over at FeeX. Good news: I won! The prize was a $150 restaurant gift card (I picked Chipotle) and a $50 Wine.com gift card. Definitely appreciate anyone who clicked over to some of my posts and helped me secure the win.
Winning hundreds of thousands playing fantasy sports – I read an interesting article in the Saturday Wall Street Journal about a 29 year-old who makes hundreds of thousands a year playing fantasy sports. He's a major data-cruncher and created a custom algorithm that tells him what to do in his 100+ leagues. It's super interesting stuff, at least to someone like me who likes to read about how people utilize data in ways that allow them to make money.
Encouraging Comments – One thing I try to be intentional about with the blog is using my Microsoft Excel/Google Spreadsheet skills to create useful tools. It's something unique to my site and helps me differentiate myself from all the other blogs out there.

As some of you may know I made a coupon database in Microsoft Excel that has become quite popular. It's "pinned" by someone new on Pinterest practically every day. I got an encouraging comment by someone recently:

Wow! This is exactly what I was looking for. I added a few other columns to modify it to the coupon organization me and my bff use. I'm a little late in the game here, I am a newbie to couponing and my I'm learning the ropes from my bff who is a veteran couponer.

Much appreciation for you and your work. I am very grateful I came across this!

If you're a blogger you know how motivating it can be to get positive feedback from your work. Considering the fact that the spreadsheet/downloads take a lot longer than a "regular" post, it's nice that people are still finding things like that useful even when the post was published over a year go.
Below are the posts we published this week:
Posts of the Week:
As usual, here are five posts from around the blogosphere that I enjoyed:
____________
Tell me something good from the past week! Are you fascinated with how people find new ways to utilize the ridiculous amount of data available?
____________
Photo by Mark Christian