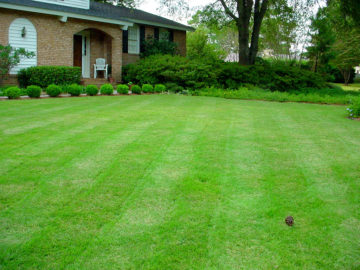 One day my lawn will look like this…one day.
Welcome to the Weekly Quick Hits Roundup!
If you're new here, every week I write a weekly wrap-up of things that were going on here at Young Adult Money, a few personal updates/thoughts, and finally a few posts I read this week that I thought were worth sharing.
If you don't already, please considering Following us on Twitter, Liking us on Facebook, and Following us on Pinterest.
We also have our giveaway roundup every Friday. This Friday there are 110 giveaways listed this week that end today (5/23) through next Thursday (5/29).
_____________________________________________________________________
Happy Friday everyone!
I'm excited for the 3-day weekend here in the USA. My wife has tremendous work ethic so will be working her weekend job on Monday morning so I will probably try to grind out some blog work while she's at work.
Here are some updates, thoughts, and more:
I'm on a first-name basis with some of the city council members, as well as the city engineer and others at public works. More on that in a post in a couple weeks.
I talked in the past about how I was considering purchasing a tablet. While I decided against purchasing one, I'm still really interested in where technology will go with tablets. Some of you may have seen that Microsoft announced the Surface Pro 3 and it seems like the most viable alternative to a laptop to date. In fact, I wouldn't be surprised if most laptops end up looking and functioning similar to the Surface 3 a few years from now.

With that being said, the price tag is going up: $799 is the lowest it will be priced, and that's for only 64 GB of storage. If you want more you can pay up to $1,949 for the top model with 512 GB of storage, an Intel Core i7 processor and 8 GB of RAM. Not in my budget, that's for sure!
Careers and Jobs – As I've been looking into the next step in my career, I'm starting to notice that hiring managers want it all. Practically every job I'm applying to either requires or prefers a masters degree, years of relevant experience, and an intermediate-to-advanced level of technical skills.

I actually started thinking again about getting my masters. They aren't cheap and I would want to be 100% sure I would be able to utilize it to get a higher-level job, thereby making it pay off from a ROI perspective. For now I won't be getting one, but it's clear that employers are going to give you an advantage.
One last note – I'm in a "competition" of sorts with other bloggers for page views over at FeeX. If you don't mind checking out and clicking over to one or all of my following posts I would greatly appreciate it:
Thanks!
We were also interviewed on Mint – head on over and check it out.
Below are the posts we published this week:
Posts of the Week:
As usual, here are five posts from around the blogosphere that I enjoyed:
____________
How was your week? Any plans for the weekend? When was the last time you interviewed for a job?
____________
Photo by Sir Mildred Pierce