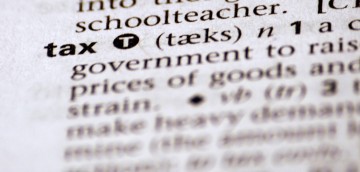 Taxes aren't everyone's favorite topic, but they are an important one when it comes to personal finance.
With taxes due by end-of-day tomorrow, it seemed like an appropriate time for one more tax post.
Today we are looking ahead to next year by discussing 4 ways to be better prepared for taxes.
I don't know about you, but it seems like every year there are a number of things I could have done differently throughout the year to make tax prep less of a headache.
IMPORTANT: If you HAVEN'T filed yet – You can e-file a tax extension by April 15th to avoid late fees. If you don't file for an extension, you need to get your taxes sent as soon as possible, as you may be imposed a failure to file penalty of up to 5 percent per month or part of the month, of the taxes due, up to a maximum of 25 percent of the total tax due.
1) Keep Good Records
When it comes to taxes, you can't keep too detailed of records. The tax code is incredibly complicated. Even relatively simple tax returns typically require a number of documents from various companies and financial institutions.
If you have side income or plan on writing expenses off of income you've made, you need to keep good records of your expenses. If you are audited, you need to be able to support the amount you wrote-off in business expenses. For example, my wife and I rent out a basement apartment. There are many expenses that can be written-off, all the way down to paint and rollers. If we don't save receipts from these purchases, though, it becomes difficult or impossible to prove to the IRS that we actually spent money on these expenses, let alone the exact amount and date of transaction.
I personally reconcile my small business financials once a month. This helps me make sure I have all my supporting documents in-line and allows me to have full documentation of my revenue, expense, and ultimately the income I made that past month. I scan copies of checks I deposit and take screenshots of quarterly estimated taxes submitted.
One tax item that requires documentation is charitable donations. Keep excellent records of your charitable donations, including how much you donated and on what dates. If you donate household goods such as clothes or furniture to a store like Goodwill, be sure to get a receipt from the organization. Additionally you will want to take pictures of what you donated, since there is no other way to prove exactly what you donated. Finally, you can calculate your tax write-off by listing out the amount the store will sell the items for (i.e. $2 for shirts, $3 for pants, etc.). Bottom line: the better records you keep the less of a headache you'll have come tax time.
2) Contribute to Tax Advantaged Accounts
Contributing to tax-advantaged retirement and health care accounts can lower your taxable income. These include:
401(k) and 403(b)
Roth IRA
HSA
While most people are aware that contributing to a 401(k) or a Roth IRA will benefit you come tax time, most don't realize that money you put in an HSA is treated as pre-tax income and, in turn, lowers your taxable income. Money put into an HSA but not spent on health-care expenses are treated similar to a Roth IRA, creating a secondary retirement account.
It's much easier to contribute throughout the year instead of a lump sum amount towards the end of the year, so taking the time to plan ahead can save you money come tax time. Remember to collect the required documentation at tax time so that you get the full deduction for money contributed to these accounts.
3) Adjust Withholding as Needed
My wife and I have had a fairly large tax bill the past couple years. Prior to that we were used to getting a refund from the government. Having to write a large check to the government two straight years definitely motivates you to plan better for taxes.
Here are two scenarios where you likely aren't having enough taxes withheld:
Part-time jobs – If you have a couple of part-time jobs or your spouse is working a part-time job or two, you likely are not having enough taxes taken out of your paychecks. The reason is that the businesses where you receive part-time income assume that the money they are paying you is your only income. So if you make $25,000 at one employer and $25,000 at another employer, they won't take out enough to compensate for the fact that your income is $50,000 instead of $25,000. Either set aside money for taxes throughout the year or have an additional specified amount withheld each paycheck.
Small Business and Self-Employment Income – If you have a small business or are self-employed, you need to start planning early for tax time. You also need to start paying quarterly estimated taxes if you haven't already. We have a thorough post on the topic including calculators to estimate your tax liability, and in turn calculate how much you should pay each quarter. The tax rate on this income is a lot higher than you might think.
Even if your only income is full-time income, you still can have additional money withheld from each paycheck. If you take this approach you will almost certainly get a refund, which most people prefer.
4) Learn about potential credits, write-offs, and deductions
Learning about the tax code might not be very high on your priority list, but if you commit some time to learning some of the basics of the tax code you may save yourself some headaches next year.
For example let's say you have a home business. If you have a good understanding of what expenses you can and can't write off, and what sort of exceptions come into play, it'll be easier to keep track of your expenses throughout the year. This will also help you plan for taxes better, as you will have a better understanding of your tax liability throughout the year versus calculating it all at year-end.
For example, let's say you bought a brand-new laptop and tablet this year and plan on writing it off as an expense. It's important to understand the rules surrounding whether you can write-off this expense. If you only use your laptop 25% of the time for your small business and 75% of the time for your own personal use, there's a good chance it won't pass as a business expense. If you recognize this from the get-go you won't be surprised at year-end when you consult the tax code and realize you had $1,500 less of small business expense than you originally thought.
Disclaimer: This article is for informational purposes only. Always consult a tax professional for tax-related questions, issues, and preparation.
Was your refund or amount owed this year surprising to you? What do you do throughout the year to prepare for taxes?
____________
Photo by Alan Cleaver