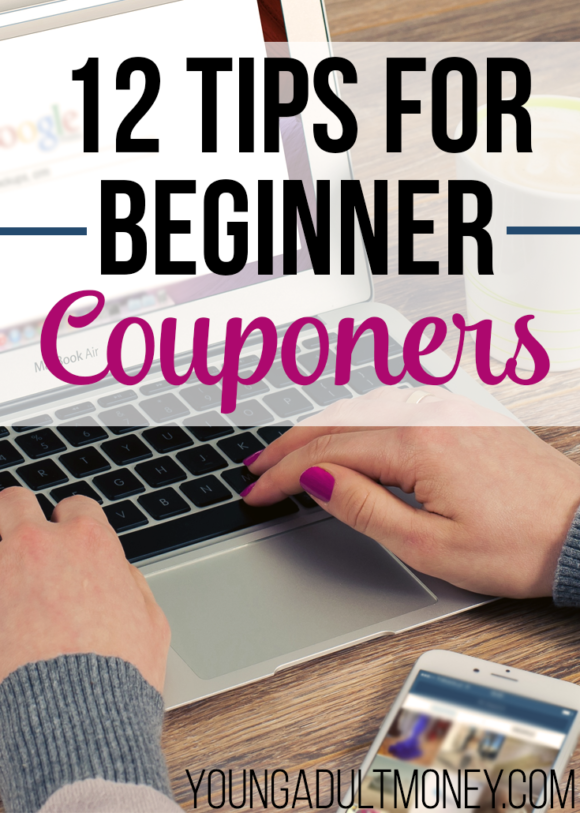 My wife and I have been clipping coupons for a couple years now. Couponing has saved us thousands of dollars on things we would have bought anyway.
In fact, it's hard to imagine going to the store week after week and paying full price for everything. There's just too many easy ways to save using coupons.
With that being said, couponing can be difficult when you are first getting started. Today I have 12 tips for all the beginner and new couponers out there who are looking to start putting dollars back in their pockets.
1) Get the Sunday Newspaper
We've all heard at one time or another "no one reads the physical newspaper anymore." My wife and I have been getting the Sunday newspaper for over two years now for one reason: coupons.
There will typically be anywhere from one to four coupon inserts in the Sunday newspaper, all loaded with coupons. The Sunday newspaper typically only costs about a dollar a week, including delivery. That means you really don't have to save much to make it pay off.
2) Find Coupons Online
While the Sunday newspaper is easily the best place to find coupons, there are also a ton of coupons available online. The main site that we use is coupons.com. Coupons.com makes it easy to select the coupons you like and print only those coupons. Really user-friendly.
I also really like Target's coupons. There's always a wide range of coupons and you can use them with manufacturer coupons as well (more on that later).
Another great source of coupons online is Groupon. Check out Groupon Coupons for deals on stores like JC Penney and Kohl's.
3) Keep Your Coupons Organized
Once you have more than thirty or forty coupons it becomes difficult and frustrating to keep your coupons straight. I created a coupon database system that makes it really easy to view what coupons you have for certain brands and categories. Check out my Excel Coupon Database if you are interested (it's also my 'most pinned' post I've ever written!).
4) Match Coupons with Deals
When it comes to couponing the real savings happen when you match coupons with deals. Say you have a coupon for $1 off Crest toothpaste. That toothpaste may go on sale from $3 to $1.50. If you use your coupon to purchase the toothpaste when it's $1.50 you are only paying $0.50 for toothpaste – a true savings of $2.50 or 83%.
This leads me to another reason getting the Sunday newspaper is a good idea: you can look at all the weekly ads that show what products are discounted that week.
5) Check the Clearance Sections
One thing my wife does well is check the clearance section or "end caps" at Target for products that have been deeply discounted. If you have a coupon for one of these products you can get them for very cheap.
For example, sometimes companies like Air Wick have seasonal products that will be deeply discounted once the season is over. If you time it right you can get these products for very cheap when you purchase them with a coupon.
6) Know – and take advantage of – Store Coupon Policies
Knowing store coupon policies can make a big difference as far as how successful you are at couponing. A couple examples:
Double Days – Rainbow grocery stores sometimes have double days where they will double manufacturer coupons. Keep in mind that this comes with it's restrictions. Rainbow requires the total transaction price to be $25 before coupons are factored in and only allows 5 manufacturer coupons to be doubled per transaction.
Stacking Coupons – When purchasing a product, Target allows you to use both a store coupon and a manufacturer coupon. Since Target is pretty good about having store coupons this can result in some big savings, especially if you take advantage of things like Cart Wheel and 5% savings from using a Red Card.
The takewaway here: know the coupon policy before you head to the store.
7) Don't Be Afraid to Stockpile
Some people get a bad feeling when they hear about couponers stockpiling. Just because some people fill their garage with stuff they don't need doesn't mean you can't be a 'practical' stockpiler.
One example where this might make sense is pop (or soda for a majority of you). The cheapest price you can usually get a 12-pack for is $2. This doesn't happen very often, maybe only once every 3 or 4 months (or longer). When it does, it makes sense to buy a large quantity and store it in your basement, garage, pantry, etc.
The same can be said for similar rock-bottom discounts that typically only happen once in a great while.
8) Use Social Media
When it comes to couponing, you may find some unexpected savings when you use social media.
I once heard about a 2-day sale at a specific Puma store at a specific mall near our house from a tweet on the mall's twitter account. It was a big one: 50% off one item, with basically no restrictions. Both my wife and I got new Pumas for a fraction of what we would have paid if I hadn't randomly came across the tweet.
Additionally you will find other random savings, such as $25 off your $50 order at Sport's Authority on your first visit (it only ran for a short period of time – such a great deal). I even got free cheese bread at a pizza place just for checking in!
9) Subscribe to Email Lists
Some people don't like signing up for email lists because it can come with a lot of annoying and worthless emails. If you can get past that, though, there is some real savings to be had from signing up for manufacturer and store emails.
For example, my wife and I take allergy medicine. This obvoiusly is a regular expense that we love to decrease whenever possible. If you sign up for the Allegra email list you will get an email every month or so with a $2 – $5 coupon. That adds up over time.
Besides coupons you will also be alerted of sales and other special deal, like Buy One Get One (BOGO) deals at coffee shops.
10) It's the % you save that matters, not the dollar amount
It's important to not get too wrapped up in how much you save in dollar terms. It's great to save $100, but not if you spent $2,000. If you saved $100 off of a $250 grocery bill, though, that's some significant savings.
Simple lesson here: calculate the percentage you saved off your bill, not the dollar amount. Even though dollar savings always sounds more impressive ;)
11) Couponing isn't just for groceries
When it comes to couponing groceries are stressed quite a bit, and it makes sense. The money most families spend on groceries is both material and consistent. If you can cut down the amount of money you spend on groceries it will inevitably have a positive impact on your finances.
But couponing isn't just for groceries: household goods, restaurants, entertainment…the things you can save money on by couponing is essentially endless.
One unique couponing 'hack' my wife uses is for the craft/home store Michael's. Michael's freely and often gives out "40% off one item" coupons. What does my wife do? She stops in at Michael's to get one item. She does this consistently and over time has saved a ton of money. She bought quite a bit of stuff there for our wedding and it was all 40% off – that's some serious savings (did I mention weddings are expensive?).
12) Practice Makes Perfect
This may be the most important tip on this list. It's very easy to get discouraged when you first start couponing. It's important to realize that you will get better at using coupons over time and there definitely is a learning curve.
Remember, no one coupon is going to have a huge impact. But when you take into account all the coupons you use each month you will save thousands of dollars.
Do you coupon? Any tips and tricks to add to the list?
____________
Photo by Carol Pyles