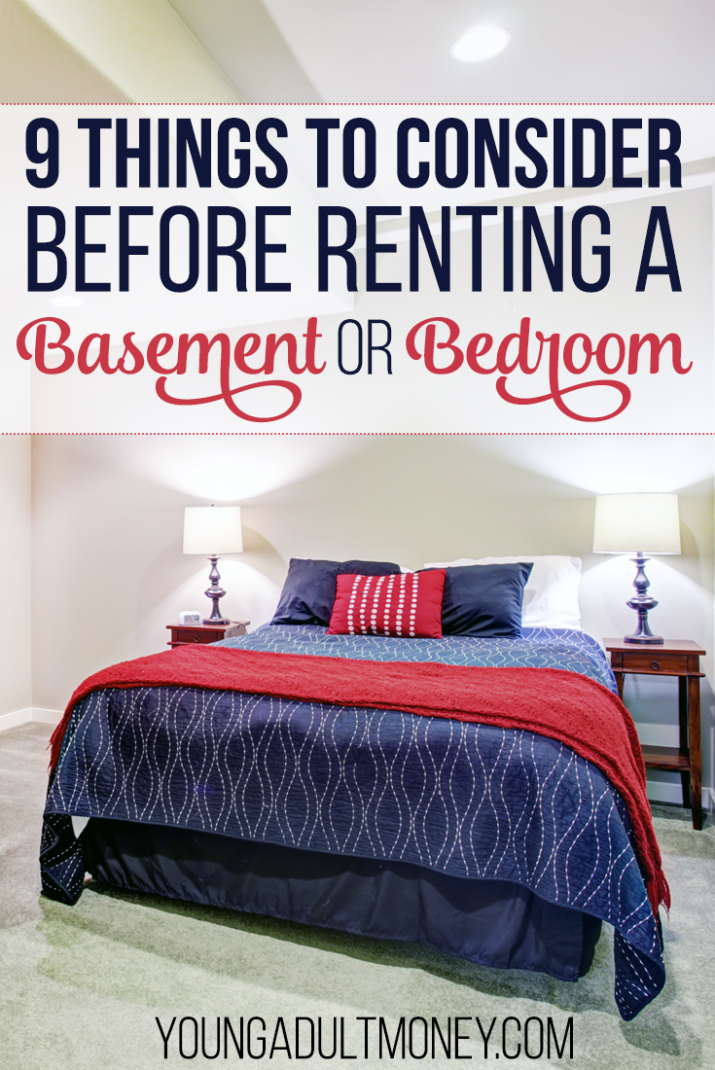 Many personal finance writers will mention renting out a bedroom, basement, or another part of your house to bring in some extra money. These are usually quick mentions on lists of "how to make extra money" posts and do not go into much detail.
There are many things to consider before renting out a part of your house, whether it's a basement apartment or a bedroom.
Over the past year my wife and I have rented out a basement apartment for extra income. Throughout the process we have learned a lot and I want to share those things with other potential landlords before they make the plunge.
1) Always "on-call"
– When you have a renter you will always be on-call in case of emergencies like your renter being locked out or other issues like a leaky faucet. Going on vacation? You will need to either be available by phone or have someone else "on-call." This whole thing can be outsourced but expect to pay a pretty penny for that kind of service.
2) Noise considerations
– How soundproof are your walls? Most houses and even apartment setups are not soundproofed because it's much more expensive to have soundproofed walls and ceilings versus standard one-layer sheet rock. It goes both ways; it may not be just your renter's loud music that you want to drown out. What if you watch movies late at night but your renter gets up early? You will need to adjust the volume if the sound carries.
3) Always have a signed lease
– Don't even consider renting out a part of your house without a signed lease. The lease should explain in clear terms what your expectations are as a landlord and what their expectations are as a tenant. Not having a signed lease can really come back to bite you.
4) Renter's Insurance
– Renter's insurance is extremely important. I go into more detail in this post but essentially there are many things that your homeowner's insurance does not cover. Avoid an ugly situation by doing everything you can to encourage your renter to get renter's insurance (it's only ~$10-$15/month).
5) Tax and reporting obligations
– Ah the joy of taxes. If you have a renter you will want to keep very good documentation of income and expenses. Plan on spending a few hours at year-end going through all your documentation to make sure you report accurate income and (accurately) take advantage of expenses incurred.
6) To share or not to share – space
– If you are simply renting out a bedroom will there be any space in your home that is solely yours and not shared by your renter? Another thing to consider is fire code. While we don't technically share the second half of our basement with our renter, we also don't lock the door. The basement would either need to be completely fireproofed or else the renter needs access to two exits, such as in our case. This limits our rental pool to people that we actually trust. Something to consider, at least.
7) To share or not to share – utilities
When you are renting out part of your house it's often much easier to give an "all-inclusive" flat rate each month that includes heat, electricity, trash, etc. There are some risks that come with this, though. What if the renter runs a space heater 24/7? What if they leave the door open when you have the AC running? One way to protect yourself is with a lease, as mentioned earlier. Worst case scenario you have to talk to the renter about how the bills are high and ask them to change their behavior. Absolute worst case scenario your lease should allow you to give them a two month-notice that you will be ending the lease.
8) Parking
Don't forget your renter will need a place to park. Having a parking spot for your renter will make your property more attractive. At the same time this really depends on where you live. Some cities renters absolutely do not expect to have parking spots because most homeowners usually only have one parking spot. In other cities it's much more common.
9) Repairs and Upgrades
Taxes aren't the only thing that will cut into your rental income. Keep in mind that you will likely have a number of repairs and upgrades you will need to make to your rental unit from time-to-time. Some will be expected, such as the $1,500 we put into our rental unit before our first renter moved in. Others will be unexpected, such as a pipe becoming clogged or a toilet needing to be replaced.