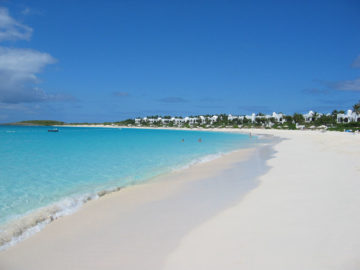 Money tight but still want to get away? Want to escape to some place warmer but don't want to spend a lot of money?
Whatever your reason for wanting to travel for less, I think you will be happy to know that there are creative ways to pay for travel and take that vacation that's on your mind.
The past two vacations I went on weren't cheap. The first was my honeymoon to a Sandals resort in Jamaica. The second was a cruise around the Caribbean. These trips were absolutely amazing, but they definitely weren't cheap.
Recently I've been looking into new and creative ways to fund travel and, when possible, travel for less. Today I'll share a few ideas that I've either personally used to help fund my travel or that others I know have used.
1) Get free cash and flights through credit card rewards
The easiest way to make money for travel is to take advantage of credit card promotions. This year my wife and I are going to get a free $800 for travel ($400 from two different cards).
Below are the cards that I am using this year to help fund my travel:
Barclaycard Arrival Plus World Elite MasterCard – The Barclaycard Arrival World MasterCard will give you a free 40,000 miles when you spend at least $3,000 within the first 90 days of signing up. This ends up being equivalent to $400 that can be spent on any travel-related expense $25 or more. Additionally you get 10% miles when you redeem your miles for travel expenses – an additional $40!

Redeeming is easy as you simply use your card for travel expenses and go to the redemption center and choose travel expenses you want to redeem. Have a significant other or friend sign up and you will have $880 to spend on travel between the two of you.
Discover it Cash Back Rewards Card – The Discover it Cash Back Rewards card isn't a travel rewards card but can still provide you with an income source to fund your travel expenditures. This card offers 1% cash back on every purchase; no exceptions. Additionally they run promotions every three months where spending in a certain category will receive 5% cash back. I booked my honeymoon when they were offering 5% cash back on travel spending.
My wife and I are working on our second Barclaycard (already charged $1,000 on mine, now working on the card under my wife's name). We plan on going on a nearly-free vacation with the $800 in rewards that we'll get from our two Barclaycards.
2) Create a side income source and set aside the money for travel
I have a few "side hustles" that provide me side income on top of the income from my regular full-time job. My initial goal with side income was to offset my wife and my monthly student loan payment. Now that I've passed that initial goal I plan on using it to pay for travel, a new car, and more.
When it comes to side hustles and making side income the options are endless. It can be as time-intensive or as casual as you want it to be. What are some ideas for side hustles?
Freelance Writing
Web Design
Social Media Management
Mystery Shopping
House Sitting
Photography
Making and selling things on Etsy
Tutor
Music Lessons
There is an endless number of things you could do as a side hustle. Most people "over-think" when it comes to side hustles. Keep it simple! Heck, even working a retail job once a week on the weekend can be a side hustle. Anything that helps make money on top of your full-time job.
While making side income and making money from a side hustle may start out slow, you may be surprised how quickly it gains momentum. I didn't make a dime blogging the first eight months. Then all of a sudden I closed a $700 advertising deal. A few months later things really started to pick up and I've been making some nice side income ever since.
You may end up starting your side hustle to fund travel and find out it can fund a lot more than that. I know someone who specifically started a blog to earn money to pay for vacations and ended up not only paying for some awesome vacations but also their law degree!
3) Enter giveaways to win cash and (if you're lucky) a vacation
I wrote an entire post about funding travel through giveaways. My wife and I have been entering giveaways for over a year now and have won many giveaways. We track all our winnings and trust me, if you win enough you can easily fund a vacation from the proceeds.
Cash giveaways are the best giveaways to win because you can put that straight towards your travel fund. Gift cards are good too because they are usually for places like Target, Walmart, and Amazon where you shop anyway. If you spend it on stuff that you would buy otherwise, you can put the cash equivalent of the gift card into your travel fund.
If you enter enough giveaways you will probably win things you don't want or need. A car seat, a stroller, a $100 food processor – you name it, there is a giveaway for it. If you win you can list it on Craigslist or eBay and take the cash. I've done this with a number of things I've won and usually they are bigger items that net $100+.
There's also a lot of vacation giveaways put on by blogs and various companies. Any given month there are at least a handful that I enter. Winning a vacation is definitely the easiest way to travel for free.
4) Get a job that allows you to travel
If you really want to see the world and are willing to travel often, you may want to consider a career or even a short-term job that allows you to travel. With travel funded by the company you work for you don't have to worry about saving for travel; it will be part of your job description!
We interviewed Brandy Green a while back who did just that. She was on the show Ghost Hunters International and traveled to over forty countries, literally living out of a suitcase for most of the year. She shares some of her pics from her travels on her Twitter page from time-to-time if you're interested.
You don't have to be on a television series to travel, though. My father is a chemist and over the past couple decades has traveled all over the world as he works for an international global adhesive manufacturer. I have another friend who produces music and has worked in far-flung places like the Middle East. Another friend does audits and she's worked in Europe as well as various locations across the United States.
If you want to see the world but can't imagine paying for it yourself, getting a job that requires travel is something you should consider.
5) Set up automated monthly savings
Okay I lied – clearly setting up automatic monthly savings isn't creative. You could argue it's even a 'boring' way to fund travel. But in all honesty, when you start to physically separate your savings into different buckets you are much more likely to reach your goal.
Let's say you need $2,000 for your next vacation. If you automatically have $200 taken out of your checking account each month and moved into a specific savings account, you will have $2,000 in 10 months. Even better is if you can combine your automatic savings with credit card bonuses or side income.
____________
These are just a few ways you can get creative about how you pay for travel. While travel is a luxury, vacations are great for recharging your batteries. Don't let finances get in the way of travelling and taking vacations.
Which of these ideas have you done yourself or which will you give a try?
____________
1st Photo by tiarescott