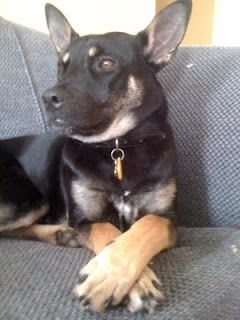 Today's post is from our regular Wednesday contributor, Cat.
So, I have this little creature in my house. Her name is Julep. You can see her picture on the left there.
Julep is a 5 year old mixed-breed rescue dog who is so spoiled she sleeps with her head on my pillow. If you told her she was a dog, she'd be astonished, seeing as she operates her day-to-day life with the assumption that she's human.
I want you to know I begged my husband for this dog. We were only dating at the time, and I would talk incessantly about getting one. He would even take me on dates to pet stores where you could play with puppies for 15 minutes or so. He thought that would maybe quell my hope for having one of my own, but obviously it only made me want a dog more.
I finally got Julep for my birthday in 2009, a few months after my husband and I got engaged. She was a rescue from a puppy mill, which had several litters of puppies all over the property. Of the 30 puppies at the puppy mill, Julep was the smallest and the one in the most need of care.  So, once we were able to get her into our possession, she required a lot of vet visits.
The start up costs of owning her were way more than what I predicted, so if you are thinking of owning a dog, here are some things to consider:
1. Vaccines & De-Worming
I wasn't as financially responsible 5 years ago as I am now, so I don't have the exact numbers that we spent on Julep's initial health check ups. I do remember that she had two different types of worms from the bad conditions she was living in, and that all of her initial vaccines and de-worming were approximately $500.00.
2. Spay/Neuter
Unless you are a breeder or have show dogs, the responsible thing to do is to spay or neuter your pet. Given that Julep is a mutt and her history at the puppy mill, this was an easy decision for us since we did not want to further contribute to the problem. For $150 with a student discount, Julep got spayed and microchipped.
3. Crates and Collars
You will have to buy a few different collars because you'll need puppy sized collars and then as your dog grows, you'll need other sizes. We had to do the same thing with dog crates. We thought that Julep was a German Shepherd mix based on her appearance and so we purchased a huge $100 dog crate from a friend. Well, it turns out that Julep stopped growing at 35 pounds, so the large crate was unnecessary. She now has one that is appropriate for her size, although we never use it now that she is grown up and potty trained. (She spends most of her day lounging on the couch or in a sun spot on the floor.)
4. Training Supplies
Julep went through a 6 week obedience class starting when she was just 10 weeks old. This was about $150 if I remember correctly, and I'm really glad we did it. Although she's definitely not perfect with her obedience, she can do some pretty fun tricks. This class also led us to buy special harnesses for walking her, etc. which all add up.
In all my begging for this dog, I never took the time to look up how much she would cost. I was fresh out of school when I got her and about about start graduate school, so I definitely didn't have $1,000 of discretionary income to spend on her medical bills, food, obedience training, and dog gear. I wasn't tracking my spending at the time, and I'm sure it didn't help the credit card debt that I eventually got into. Still, this little dog of mine was worth every penny. Now to see how she handles having her space invaded by two babies in just a few weeks…
Do you have a dog? Do you remember the start up costs?