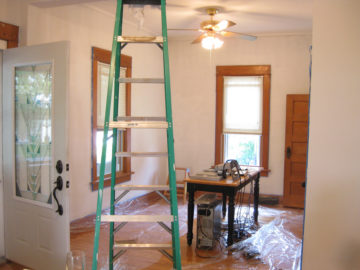 As a relatively new homeowner I am constantly prioritizing what home projects need my attention. Can working on the guest bedroom be put off while I work on landscaping? Can adding new outdoor lighting be put off while I invest the money in new flooring? There are constantly trade-offs with every decision homeowners face.
With that being said, today I want to share five Do It Yourself (DIY) goals that you might want to tackle as a homeowner. They can save you money because you don't have to hire contractors and some, such as the first suggestion I have for you, can save you time down the road.
1) Map your circuits
When I first bought my house I had a number of upgrades to make including installing new light switches, outlets, and changing a couple of light fixtures. One thing that would have been helpful was a map of the circuits in my house. While some had obvious labels, such as 'Washer' or 'Refrigerator', most others were generic or had no labels at all. Since I was working on so many areas of the house it became easier to know which circuits related to which rooms/lights/outlets in the house, but I (stupidly) did not make a detailed list or map of what outlets and fixtures align with circuits.
I regret not mapping my circuits when I was initially working on projects as I have a fixture to replace and a few outlets left to swap out this year. I will definitely be mapping them this year.
Be EXTRA careful when working with electricity and be sure to double and triple check to make sure that fixtures and outlets are not 'hot', or in other words receiving electricity, before working on them. Also, leave the big jobs up to the professionals!
2) Install New Blinds and Drapes
Another story from our home purchase a little over a year ago: we got rid of ALL the blinds/drapes. "Disgusting" is pretty much the only word I have for them other than "outdated." I took them all down and put in new blinds. The blinds I chose were pretty much the least expensive ones you can find. You'd be shocked at just how inexpensive blinds are at Walmart. I also bought some of them at Home Depot which were also reasonably priced, though slightly higher than Walmart. All you have to do is measure the window, order them, pick them up or have them shipped to your house, and spend some time installing them. You can potentially do an entire house for $100 or less.
I prefer to go a bit cheaper on blinds and spend a bit more on drapes, since drapes add a lot more to a room than blinds. I like the drapes that Ikea sells and would recommend them. They were easy to install but weren't necessarily the cheapest options. Nevertheless having new drapes can really change a room and are definitely a DIY project versus something more expensive that would require contractors.
3) Paint
Paint can make a huge difference in any room. It's a relatively inexpensive project that typically requires only a few hours of work, but a fresh coat of paint can transform a room. If you've watched House Hunters or other shows where people are looking for new homes you probably have noticed how distracted potential buyers get by the color of paint in a room. If there is a room in your house that you aren't particularly fond of, consider changing it up by choosing a new paint color. I'm a big fan of neutral grays and browns.
4) Install New Light Fixtures
Yes, I know some leave all the electrical projects to professionals and that is absolutely fine. With that being said, installing new light fixtures can be a DIY project that immediately brightens up your space (no pun intended!). The nice thing about light fixtures is that the hard work is already done; when you add a new one where there previously was no fixture you have to run wires, install a box, etc. Replacing old light fixtures with new ones is easier than you'd think because the wires are already in place.
There is a wide range on quality and cost, so if you want a stunning $300 light fixture for your kitchen you absolutely can find one. On the other hand, light fixtures can be relatively affordable. I found some very reasonably priced ones at Ikea and Home Depot.
See safety warning under #1!
5) Install New Doorknobs
Another story from our home: when we moved in we had old-school doorknobs that likely had never been replaced in the 40 years that our home has been standing. I found installing new doorknobs to be a very easy DIY project and it definitely makes the home feel a bit newer and updated. Updating doorknobs are not the cheapest DIY project, though, as the cost quickly rises depending on the number of doors in your home. Expect to pay at least $50 for a deadbolt+doorknob combo and about $15-$40 for other doors, with keyed doorknobs being more expensive.
What DIY projects have you done for your home or do you hope to do for your home in the future?
____________
Photo by Karin Dalziel