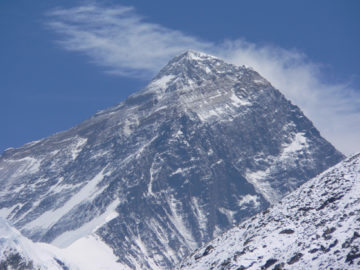 My goal for 2014 is to climb Mt. Everest! Just kidding, I'm not that ambitious :)
2014 is just around the corner and that means it's time to set new goals. I'm big on setting goals and making actionable to-do lists to achieve those goals, so I had a lot of fun writing this post and getting my goals down on paper.
I'm a big advocate of changing goals based on changing circumstances. For example, if I got a promotion at work that required 20 additional hours of my time each week, it's unlikely that I will accomplish all these goals.
In the same way I encourage you to make goals and resolutions, but also be willing to change them depending on how your circumstance changes throughout the year. Goals can force us to have tunnel vision which can be good, but it can also shut us off to new opportunities that arise.
With that being said, below are my goals for 2014. Please feel free to give me feedback in the comments, preferably in the form of encouragement ;)
Bring in $2,000 in online revenue per month – While I haven't officially totaled my revenue for 2013, it was either close to or above my $1,000/month goal that I set last January for 2013. I now have an established website, another year of experience, two weekly contributors, and an even better understanding of what it takes to generate revenue online. I think $24,000 in revenue is a somewhat "stretch" goal, but I think it's definitely achievable.
Start my second niche website – I've mentioned my desire to launch my second website more than a few times this year. I've owned the domain for almost 2 years now, so it's about time. I definitely want to start my second site in the first half of 2014 and get it established before the end of the year. Anne from Unique Gifter gave me the idea of having 50 post topics brainstormed and either written or outlined before I start a second site. I think this is a good rule and something I will work towards for the first few months of 2014. What niche is it? Well, it's not personal finance but you'll have to wait and see ;)
Continue to Grow Young Adult Money – This is a very broad goal but one that I still would like to mention because I want to always make it clear that Young Adult Money is my top priority. If the site isn't growing it's declining. I want to increase unique visitors and page views month-over-month, increase social media follows, and in general just move in a positive direction.
Complete some major outdoor projects next Summer – There are a number of large outdoor projects that we need to complete for our house, such as rebuilding a retaining wall, removing old landscaping and putting in new landscaping, having the driveway redone, finishing our fence, and putting in some nice landscaping around our fire pit. I could go on, but I think you get the picture. This will require some planning throughout the Winter to make sure that the projects are completed efficiently and in a financially responsible manner.
Buy a Reliable Car – Kind of a funny "goal" to have, but both my wife and my cars are getting old and generally less and less reliable. In my perfect world I would purchase a used Ford Escape sometime in 2014. This will help my wife navigate the nasty Minnesota winters, give us more space to haul stuff (it's pretty difficult to move things when you can't even fit your patio furniture in your car), and in general give us at least one car that we know will/should last 5-10 years.
Buy a Second Suit – This is another seemingly silly goal, but I always wait until I absolutely need clothes to purchase them, which results in rushed decisions. I would like to get a second suit that I really like and get it tailored. It would be nice to have at least two go-to suits.
Take a Vacation – I don't have a specific place that is a "must visit" when it comes to travel in 2014, but I do want to take a vacation somewhere, even if it's just for a long weekend. I was talking to my wife about using our $400 travel credit from our credit card rewards towards a Chicago trip. Chicago is a drive-able distance from where we live (about a 7-8 hour drive) or a relatively inexpensive and quick plane ride. While I have been through Chicago a couple of times I have only stopped there once, and it was only for about three hours (Incubus concert!). It would be nice to spend a little more time there and hit up some of the tourist attractions.
While this may seem like quite a few goals to tackle in 2014, I think they are all achievable if I'm focused and prioritize my time properly. I'm excited to see what 2014 brings and I'm especially excited about the potential that some of my ideas/projects have.
What are your goals for 2014?
__________________
Photo by Mahatma4711