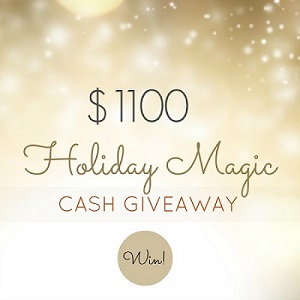 We just finished up our $1,200 Fall Cash giveaway so we figured why not do it again? So today we have another big cash giveaway for you: we are giving away $1,100 cash. This is a huge prize that comes right in time for the Holidays.
The Holidays can be a time of financial stress for many. Expectations can be high for you to exchange gifts with friend and family, and all those gifts add up. My wife and I will likely end up spending over $500 on Christmas gifts :0 A cash infusion of $1,100 would be welcome in our house.
Instead of focusing on the high costs of the Holidays, I'd rather focus on the positive. One of my favorite things about the holidays are the many traditions that are made over the years and continue to be made. A couple of my favorite are:
Spending time with family – I get together with my family each Christmas and exchange gifts, eat a great home-cooked meal, and have fun catching up. We also go to church each year and it's been a great way to remember the true meaning of Christmas – as much as retailers want you to think it's about getting new stuff!
Taking a day off with my wife – My wife and I have had a tradition ever since dating to take a day off from the busy Holiday season and celebrate Christmas together. It's not so much about what we do as it is about spending time together. We both work very hard and it's great to stop for a day and truly enjoy ourselves.
I recently wrote a post sharing 5 Frugal Ways to Celebrate the Holidays. While the Holidays can be expensive, especially if you have to travel to visit family, it's important to remember that there are frugal ways to celebrate.
On to the giveaway!
$1100 Holiday Magic Cash Giveaway
November 21, 2013 at 12:00am – December 16, 2013 at 12:00am
Open Worldwide
PRIZE: One winner will receive $1100 USD payable via PayPal
Eligibility and Rules: This giveaway runs from 12:00AM ET on November 21, 2013 to 12:00AM ET on December 16, 2013. It is open to individuals over the age of the majority in their home country. The winner will be chosen randomly through the Rafflecopter form. It is the sole responsibility of the winner to adhere to all laws in their respective country, which includes payments to any governing tax body. This giveaway is void in any country where it is prohibited by law.
Claiming Prize: The prize will be sent via PayPal. The winner must claim their prize within 48 hours of receiving notice. If you do not claim your prize within this time frame, your entry will be void and another winner will be drawn. We don't want to have to do that! Please ensure that the email spaceshipsandlaserbeams [at] gmail [dot] com is on your "safe list."
Disclosure: This giveaway is a blogger-sponsored event that is in no way affiliated with PayPal, Facebook, Twitter, Pinterest, Instagram or any other social media channel. If you have questions, email Stephanie at Spaceships and Laser Beams at spaceshipsandlaserbeams [at] gmail [dot] com.
Please use the Rafflecopter below to enter!
None of the entries are mandatory but the more entries you do, the more chances you have to win!
(If you're running low on time, you can come back as many times as you like to finish the form and optimize your chances.)