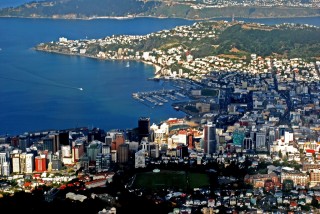 I ran across this picture of Wellington, New Zealand, as I was browsing photos on Flickr. Looks like a beautiful place to visit.
Welcome to the Weekly Quick Hits Roundup! Every week I write a weekly wrap-up of things that were going on here at Young Adult Money, a few personal updates/thoughts, and finally a few posts I read this week that I thought were worth sharing.
We also have our giveaway roundup every Friday. This Friday there are 275 giveaways listed this week that end today (10/25) through next Thursday (10/31).
Below are the posts we published this week:
On Monday I wrote about a hot subject here in the United States in 3 Reasons Obamacare is Expensive. Many have pointed out in the past few weeks that Obamacare is expensive. In this post I explain a few reasons why the Affordable Care Acts isn't so affordable for many people.
On Tuesday Sally shared What Being in a Sorority Has Given Me. I was never in a fraternity, but I can relate to some of the benefits from other close-knit communities/friend groups I've been a part of.
On Wednesday Cat explained Why I'm Flying First Class Tomorrow. First of all, it's incredible that flying first class was cheaper than other options! Second, if you didn't know, Cat has lived in Grenada the past few years and finally moved back home to the United States this weekend. It's been cool to get to know her and I'm excited to see where life takes her and her growing family.
On Thursday I discussed 5 Benefits of Working from Home I'm constantly in shock at how many jobs are done in offices that could easily be done from home, especially considering how much can be gained both for employee and employer.
Update Time
Wisdom Teeth and Blog Work on my Long Weekend – Last weekend I had a four day weekend, which was mainly spent taking care of my wife as she recovered from wisdom teeth surgery. It was incredible how quick the procedure went – only about 45 minutes to take out four teeth. Sometimes modern medicine simply amazes me.

Besides taking care of her, I spent a lot of time on the site. I didn't get nearly as much done as I would have hoped (I sometimes make unrealistic goals/to-do lists), but it's nice to get some of those things done that I've been putting off for a while. If you look on my home page, I now have summaries instead of full posts. This may not seem like much, but I put off tweaking the code for over a year! Hopefully getting some of those pesky things off my "to do" list will make it easier to free up time to work on my next website.
Vikings are hosting QB try outs – If you follow the NFL, you probably heard about the disaster of a game that the Vikings had on Monday Night Football. Josh Freeman started his first game with the Vikings and did pitiful. Now apparently Ponder is our starter for Sunday because Freeman is injured.

My solution? Sign Tebow! Why not give him a try out as well? Worst case scenario we continue to lose and get a high draft pick.
Weekend – This weekend we have quite a bit planned. Tonight we are going on a double. Also, my sister's birthday was this week so we are going out to eat with my family. Finally, my wife and I are going on our annual trip to the apple orchard and pumpkin patch.
Posts of the Week:
If you want to see your post included in this roundup, comment on posts on Young Adult Money throughout the week – that's where I find blogs/posts to include.
____________
What are you up to this weekend? Are you doing anything for Halloween next week? Who do you think the Vikings should start at QB next?
____________
Photo by Phillip Capper