The Weekly Quick Hits Roundup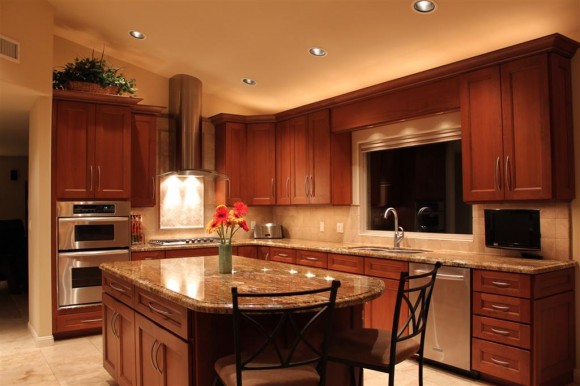 New kitchen! Just kidding, I can dream tho, right? ;)
Welcome to the Weekly Quick Hits Roundup! Every week I write a weekly wrap-up of things that were going on here at Young Adult Money, a few personal updates/thoughts, and finally a few posts I read this week that I thought were worth sharing.
We also have our giveaway roundup every Friday. This Friday there are over 150 giveaways listed that end today (10/11) through next Thursday (10/17).
Below are the posts we published this week:
On Monday Sally shared about work/life balance in I Used to Work 30+ Hours a Week in High School. I used to work anywhere from 10-25 hours a week during school (that's during school, not Summer) and I really can't imagine working 30 hours a week consistently. Definitely requires a great work ethic, to say the least.
Update Time
Workout Goal – As I've mentioned in the past, I set a goal of running 3 miles a day, four days a week, for three weeks. This is my third week and the runs were ironically more difficult than they were the first two weeks.

On a side note, I would really like to add strength training to my workout plan. While I have done strength training in the past, I have never made a solid plan or stuck with it for a long period of time. If you know of any good websites that help you make strength training workout plans I would love to hear about them.
New Side Project – I mentioned it in the past, but there is another website that I have been planning on starting for quite some time now. I think I've owned the domain for nearly two years. I got coffee with a friend on Wednesday night and we were discussing our respective small businesses/side hustles and I shared my new idea with him. Just talking about it got me excited, as well as his positive reaction to the idea including my plan for monetizing it.

While I certainly love putting time, energy, and money into Young Adult Money, I think I need to at least get the site launched sometime in the near future. I plan on launching the site in January 2014. I know some of you read that and think "why the heck don't you just start it this weekend and slowly work on it?" or "that's not the near future!" The answer is that I know once it's live I will obsessively want to work on it, and my current schedule just won't allow it. Additionally, I usually spend over a year thinking/planning a site before committing to it because I don't want to half-ass it.

It's nice to nail down a "launch" date, though, and I'm much more likely to actually get the site up and running now that I set a date.
Weekend – I only have two solid plans so far this weekend. On Saturday a friend is coming over to trim our trees as well as cut down our apple tree. We have a huge oak tree in our front yard that is in desperate need of trimming, so I'm excited for the job to be done before the Winter.

The other big thing I have planned is a date with my wife on Saturday night. We are both so busy during the week (and the weekends) that we rarely go on dates, so it'll be good to finally go on one.
Posts of the Week:
In case anyone hasn't figured it out, I typically read posts from bloggers who comment on our site. It's not that I don't enjoy people's posts that do not comment on our site, but with so many blogs out there it's important to prioritize the ones you read. So if you want to see your post here, keep on commenting on our posts throughout the week.
Jefferson from See Debt Run shared about his experience losing weight in See Scale Run.
Kim from Kari from Student Debt Survivor talked about bathroom attendants in Pay to Pee?. Glad I'm not the only one who find the concept of bathroom attendants strange.
Anything fun planned for the weekend? Have you finished your Christmas shopping (I kid!)? Any goals for the rest of the year? I love to hear what's going on in your life!
____________
Photo by Dru Bloomfield