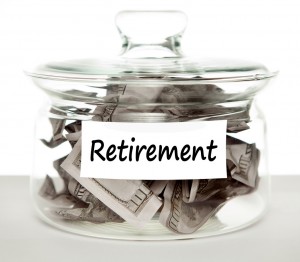 As a twenty-five year old it's hard for me to think about retirement. I'm too busy trying to get settled in my career (and decide if it's really what I want to do for the next three-plus decades) and dreaming about starting a multi-million dollar business. Nevertheless, I think we all know that the earlier you start to think about retirement the better prepared you will be. Whether you want to retire early or work into your seventies, thinking about retirement at a young age can only benefit you.
Besides simply being prepared for the future, there are three main reasons I think it makes sense to think about retirement at a young age:
1) The earlier you start, the better off you are
I don't want to focus on the value of compound interest, but it's still important for me to mention it. The money you save and invest for your retirement earlier in your life will be worth more than money invested later in life because the interest you earn when you are 30 has time to be re-invested and earn interest itself. We can get fancy and go through some of the financial calculations, but overall it's just easier to invest money today and have it work for you over the course of a few decades versus trying to "catch up" when you are fifteen or less years from retirement.
2) Get used to saving for retirement
Probably the best reason to start investing in your retirement at a young age is that you get used to saving and having a portion of your income go towards a retirement fund. When of the best pieces of advice for someone just out of college is to start having automatic deposits into their retirement fund. I started from day one at my job and I have never "missed" not having that portion of my paycheck because it is taken out automatically. It's much easier to have this setup from day one versus see a drop in your take-home pay later on.
I realize that many do not have retirement benefits through work. This is just another reason to take a proactive approach at a young age. Many young adults will likely change careers and go in and out of part-time/freelance work at some point or another, so taking retirement savings into your own hands is of vital importance.
3) It forces you to think long-term
Another big advantage of thinking about retirement from a young age is that it forces you to think long-term. Where do you want to be financially in twenty or forty years? How do you plan on getting there? Do you want to have retirement income or do you plan on living off of your savings and investments from you're pre-retirement days? I think all of these questions are important even if you retirement is something that is hard to fathom at your current age.
You might even start making plans for what will happen to any property that you have accumulated after you die. Many people in this situation put the property into a living trust, which transfers it from your name into the trust. You can then add other people to the trust, so that there aren't any problems for your family should you pass away. No one likes thinking about their own mortality, but as long as you are committed to planning long term, you might as well start organizing your assets so that they are easily manageable for the next generation.
I personally would love to have income-producing assets in retirement, whether it is through real estate or dividend-paying stocks. If you use the dividend calculator I created you'll notice just how much it would take in stock assets to make $x dividend income per year. Knowing this forces me (and hopefully others) to start thinking how they will save that much money, and in turn motivate savings.
____________
Have you started saving for retirement? What tips do you have for others who are having trouble getting started or don't see a reason to make it a priority?
____________
Photo by Tax Credits