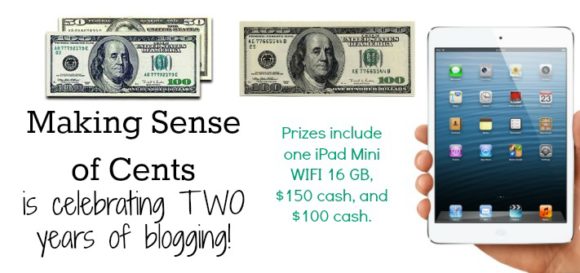 Hey everyone! We are happy to be co-sponsoring Making Sense of Cent's two-year anniversary giveaway!
Before we get to the giveaway, I want to share three blogging tips with you. Michelle's site has been live for two years now, and as some of you know Young Adult Money has been around for a little over a year. In that time I've consistently done three things that I think have allowed me to gain traffic over time.
1) Post regularly
Posting on a regular schedule is incredibly important, especially if you start getting daily readers. Nothing kills a blogs momentum more than posting five times a week for a month and then not posting for a week or two. While I have always posted at least five times a week, it might make more sense for you to post only three times a week to start. Whatever you decide, make sure you can stick with the posting schedule. Of course, make sure that the posts you put up are quality and not just something you threw together in five minutes the night before.
2) Socialize and Network with other Bloggers
One thing most people don't realize until they start their blog is how important it is to network with other bloggers. You'd be surprised how willing everyone is to help each other out. Consistently visiting other blogs and commenting on their posts will pay off in dividends as they likely will start reciprocating, at least from time-to-time. Don't get upset if you comment consistently on a bigger blog but don't receive comments from them on your site that often; they likely already comment on a ton of sites and have trouble adding new ones to the rotation. I personally try to reciprocate every comment with a comment on the commenter's site (assuming the commenter is a blogger), but sometimes it's just not possible.
3) Realize blogging is a big time commitment
Blogging takes a ton of time. Writing posts is just the beginning. From interacting with others, managing/building social media presence, responding to reader's comments, planning new content, monetizing the blog, and improving your design, it can easily take up most of your free time if you blog on top of a full-time job. Be sure you can take on the time commitment before you start to avoid frustration. Make sure you keep your priorities straight as well. A final note: if you aren't willing to put a whole lot into blogging, don't expect to make a ton of money off your site. You get out of it what you put into it.
Now let's get to the giveaway!
Prizes
We have THREE awesome prizes
First place – iPad Mini WIFI 16 GB
Second place – $150 cash
Third place – $100 cash
Here are some additional details:
Open Worldwide
If the winner of the iPad Mini prefers cash, then cash value for the iPad will be given instead
Paid via PayPal
All entries in the Rafflecopter are optional
Good luck!