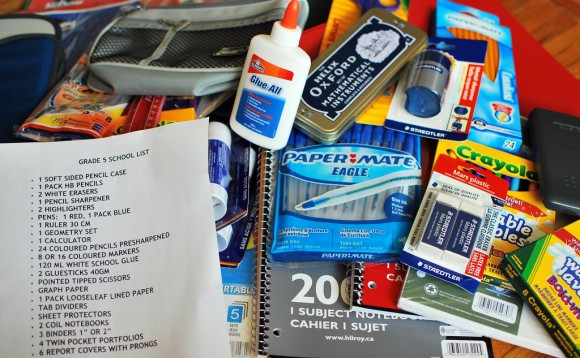 Today we have a post from our regular contributor Kyle James. Enjoy!
According to the National Retail Federation, the average student and parent is planning to spend a whopping $635 on back-to-school supplies this year. As school buying lists tend to get bigger every year, it often leaves many parents scrambling to figure out how they are going to afford it. With a little creative planning and timely purchasing, you can really save a bundle of cash when shopping for back-to-school this year. Here are six tips to get you pointed in the right direction.
Shop Around Your House
Obviously the first thing you have to do is grab your child's school supply list and start figuring out what you need to buy. But before you head to the store to start spending, check every nook and cranny of your home for supplies you may already own. Check closets, old backpacks, and drawers for school supplies that still have some life in them. Get your child involved in this process so they are aware of what you have and what you need. This will greatly reduce their ability to say "I need this or that" once you actually go shopping. For example, if you get to the store and they see a backpack that they just can't live without, you can tell them, "No, remember that we checked out your backpack yesterday and it is just fine for this year."
Shop Now and Shop Weekly
Most national stores put out a weekly list of their loss leaders, which are items they are willing to take a loss on in order to entice you into the store. Do a quick Google search and you'll find them. Check store loss leaders weekly from now until school starts and only buy the supplies when they are at their lowest price. If you have the time, do this with several stores and you can really maximize your savings. Stay consistent and only buy the loss leaders every week and by the time school rolls around you will have saved significant cash.
Shop Summer Clearance
Many clothing stores are starting to put summer clothing on their clearance racks as they make room for new fall styles. So when you go shopping for new clothing for back-to-school, always start at the clearance rack and pick up items like polo shirts, khaki shorts, dresses, and t-shirts for pennies on the dollar. You have a solid two months in most areas of the country before your kids will start needing warmer clothing. Also, this would be a great time to buy clearance clothing for next summer and fall. Just buy a size or two larger and store the items until they fit your kids.
Check Office Supply, Grocery, & Craft Stores
Everyone tends to get caught up with the Wal-Marts and Targets of the world when it comes to back-to-school shopping. The truth of the matter is many office supply and craft stores have some pretty incredible deals available right now. Don't forget to check their ads before making any purchases. Also, many grocery stores have an aisle dedicated to back-to-school supplies and are often worth your attention. For example, Kroger supermarket currently has pencils, binders, and pens on sale at prices that compare with your big-box supercenters. Publix is also known to offer "buy 1 get 1 free" deals on pencils, binders, and pens.
Only Buy Must-Haves Before School Starts
Buy all your school "must-haves" like pencils, binders, and glue sticks before school starts but wait until after school starts on stuff your child might not need right away. The reason is because by the middle of September many stores will be trying desperately to clear their shelves of back-to-school supplies to make room for Halloween and Christmas items. This is great news for you as you'll be able to finish off your child's supply list on the cheap. It is also a great time to stock up for next year and store the items until your child will need them.
Tax-Free Weekend in Early August
For the first weekend in August, many states are offering a tax free weekend to encourage back-to-school spending. If your state is one of the over 25 participating, it would be a great weekend to buy larger items as the savings is significant. Many states have a sales tax rate hovering around 8% to 10%. Check this list from TaxAdmin.org to see if your state is participating: http://www.taxadmin.org/fta/rate/sales_holiday.html
The bottom-line is that with a little planning and homework your back-to-school shopping doesn't have to blow a huge hole in your budget. Here are a few back-to-school coupons that can help you maximize your savings even further.
Kohl's.com
Save 15% Off your $100+ purchase + Free Shipping
Coupon Code: RMN15OFF
Expiration: 8/10/13
All coupons for: Kohls.com
Lands' End.com
Save 30% off their Dorm Collection w/ Free Shipping on $50+
Coupon Code: DORMS and PIN 1321
Expiration: 8/15/13
All coupons for: Lands' End
Office Depot.com
Back-to-School coupon – $5 off $50, $15 off $100, or $25 off $150
Coupon Code: None Needed
Expiration: 8/06/13
All coupons for: Office Depot
____________
About Kyle James: He is the founder of a website titled Rather-Be-Shopping.com, which lists money saving back-to-school coupons for popular stores like Old Navy, Kohl's, Wal-Mart, Target, Office Depot, and American Eagle to name a few.
____________
Photo by Morgan