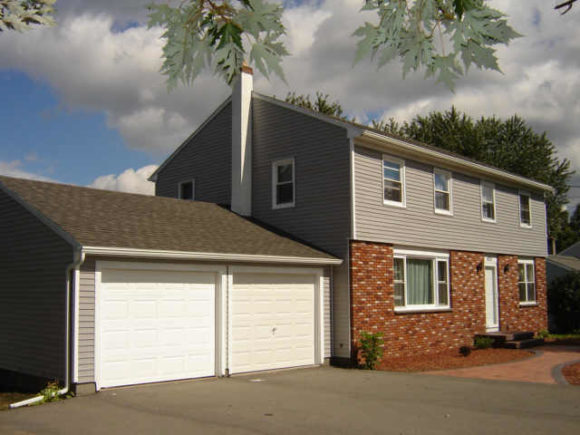 Today we continue our series on building wealth as I discuss how real estate can be used as a source of income.
This is the third article in our series on building wealth. The previous two can be seen here:
When I was a freshman in college I decided I no longer wanted to live in the dorms. While living at home was an option, the commute wasn't ideal. Instead a few friends and I rented a house. This was a great setup for us; we had a place "to ourselves" that offered more space than an apartment and was relatively affordable since all the bills were split out between four people. The house was nothing special and arguably was in need of a complete renovation. Nevertheless, there is a ton of demand from college students for affordable off-campus housing, so our landlord did not have to invest much money at all to make it attractive enough for college renters.
Our landlord worked a 9-5 job, but also owned somewhere around 6-10 houses in the neighborhood. He had the best of both worlds with this neighborhood: there was approximately 6 colleges within five miles, and it was in-between Minneapolis and St. Paul, which means it offered a short commute to thousands of businesses, entertainment, restaurants, etc.
Our First Taste of Income from Real Estate
From time-to-time I talk about how my wife and I bought our first house last year and the fact that one characteristic of the house that we liked was the basement rental unit. Through the income from the basement rental we have been able to offset some of the costs of owning a home and diversify our income.
Both my wife and I have always liked the idea of rental income. Since we were both renters last year, it only made sense to first look for a home of our own so that we could start building equity in a property instead of paying rent. One thing we both agreed was that it would be ideal to have a space in the home that we could rent out. Long-term we would love to own standalone properties, but renting out a part of our home was the next best thing. We found the perfect home, put a couple grand and some sweat equity into it, and our renter moved in three months after we initially moved in.
Obviously there are a ton of things to consider when pursuing rental income, such as whether you want to rent part of your house, a standalone property, or even a condo. Will you outsource management of the property or will you do it yourself? How long of a lease will you sign with your tenant? What is included in the rent amount, and what is not? What is your responsibility and what is the tenant's? How much will you invest in the property, and does that investment make sense?
While our venture into real estate investing may seem small, you have to start somewhere. I love following Pauline of Reach Financial Independence's real estate development in Guatemala. When I think of investing in property, I think of buying a house near a college that I can rent out to college students, but Pauline has taken on a big task of developing 100+ parcels of land in a foreign country!
Why Investing in Rental Properties is Attractive
One of the most attractive aspects of investing in real estate as an income source is that, similar to dividend-paying stocks, it not only provides income but has the potential to rise in value over time. Additionally, having multiple rental properties can have the potential to replace your 9-5 income.
Real estate has the additional advantage of leveraging debt financing. You don't have to wait until you have $200,000 to purchase a $200,000 home; instead you can leverage debt financing to get your hands on the property. While some abhor debt, this can actually prove to be quite advantageous over the long-term.
If you leveraged debt financing to purchase a rental property that provides a rental income of $2,000 a month while the mortgage is only $1,000 a month, you can essentially pay the mortgage bill each month and have some money left over for expenses/upgrades as well as a small profit. Over time the property will (hopefully) appreciate in value, and all the while you are building equity through rent checks. If you can do this on a larger scale you could have a nice retirement fund solely from the equity you've built through rental properties, if you do decide to sell the properties when you've reached a certain age. If you pay off the mortgage on a property or multiple properties, you potentially can replace your 9-5 income through the rental income, which will free up time for you to pursue whatever you please.
Is Your Home an Asset or Liability?
Robert Kiyosaki, the writer of the popular Rich Dad, Poor Dad book series, views a person's primary residence as a liability. If you are familiar with Kiyosaki's theories, you would know that he views assets as things that produce income. Your primary residence might rise in value; it might not. Same with a rental property. The difference is that a rental property is producing income while your primary residence is not. Regardless of how much the rental property fluctuates in value, it should still provide the owner consistent income.
There are many who disagree with Kiyosaki and think that the traditional view of your home being your "biggest investment" is a more accurate reflection of what the purchase of a primary residence should embody. Who's right? Everyone has to answer for themselves, but I generally agree with Kiyosaki because I like how his view focuses on income streams. I think income streams deserve more focus than most people give them.
Other Negatives of Real Estate as an Income
Any homeowner can tell you about all the extra expenses that come with owning a home. Whether it's the seasonal maintenance, expensive repairs/replacements such as roofs, air conditioners, water heater, etc., or the need to upgrade various parts of the house from time-to-time, owning a house is expensive!
Rental property can be even worse.
First of all, the renters don't own the home so they naturally care less about keeping the home in good condition. They might do things like wear shoes on the carpet because they really don't care if it shortens the life of the carpet, avoid cleaning thoroughly, and/or treat appliances with less care. The problem for the landlord is that usually they are the ones writing the checks for carpet replacement, appliance replacement, and everything else.
Of course, there are also bigger maintenance issues such as replacing the roof, siding, water heater, etc. that inevitably come with owning a property. It's important to build up a reserve for these repairs, as well as to prepare for other unexpected expenses to arise. Being available 24/7 – or paying someone else to be available – is another fun thing that comes along with being a landlord. Thankfully there are a variety of options for outsourcing this function of owning an income property. Nevertheless, if an emergency scenario arises, such as a burst pipe, it is your responsibility to immediately alleviate the situation.
While rental income is not inherently a passive income source, it does boast many long-term wealth building benefits as well as a cash flow that you otherwise would not have.
____________
Even with all the risks that come with owning a rental property and investing in real estate for income and/or appreciation in value, it can still be a great way to increase your income and build wealth long-term. As was illustrated in my college example, there will always be a demographic that is looking to rent instead of own a property. The reasons vary, but it means that rental income is something that will always be available as an income option if you want to increase your income outside of your 9-5 job.
Is real estate investing part of your long-term wealth plan? Do you hope to replace part or all of your income from rental income? Why or why not?
____________
Photo Credit: Nathan Bittinger