I am a member of the Collective Bias® Social Fabric® Community #cbias. This shop has been compensated as part of a social shopper insights study for Collective Bias and their client.
I used to have an unlimited talk, text, and data plan with Sprint that cost me $146 a month for two people. Over the past month I have been trying out the new Walmart Family Mobile unlimited plan that costs just $40 a month. I liked the plan so much that I cancelled our Sprint plan and both my wife and I started the Walmart Family Mobile unlimited plan.
If you would like to see my first post about my initial thoughts about the plan and the LG L9 phone, check it out here.
Features I enjoy about the plan
There are many great features to the Walmart Family Mobile unlimited plan:
Obviously price is one of th most important factors for me when it comes to cell phone plans. At the same time, I would not want a plan that does not have unlimited data. With unlimited talk, text, and data, I don't have to worry about overuse charges.
An additional feature is that the plan is month-to-month. No contracts. If I start hating the plan for one reason or another I can easily switch back to a contract plan. I'm not sure why I would, though, because who wants to be locked into a contract plan and pay more?
Another feature I like about Walmart Family Mobile is the online account management and information that is available for members. The website is very straight-forward and helps you manage your plan easily.

Now I want to talk about one of the negatives of the plan: data throttling.
Is Data Throttling an Issue with this Plan?
Someone on my first post commented about the potential data throttling with the Walmart Family Mobile plan. I think it's important to address this (potential) issue.
You get 1GB of data each month on the Walmart Family Mobile. Once it is used up you only get 2G connection until the month resets. You can purchase an additional data add-on if you want. A better strategy is to simply connect to the WiFi network whenever you can. For example, I connected to my home WiFi right away so that every time I'm at home my phone automatically connects to the WiFi network instead of churning through data. This is a minor inconvenience, in my opinion, for the much lower rates that are available.
You can view your data usage by logging into your account on the home page:

You can also turn on and off your prepaid extras packs easily:

An important thing to remember about this plan is that you will not be charged involuntarily for data usage. A lot of plans with other companies have ceilings for data usage; if you go over the limit you are charged for that additional data automatically. With Walmart Family Mobile you can choose if you want to pay for additional data.
Connecting to WiFi at home, work, and other places you frequent can help you avoid ever having to deal with data throttling. I use my phone more than anyone else I know, yet I have used less than 20% of my data and I'm already halfway through the month.
Final Thoughts
The pros of the Walmart Family Mobile unlimited plan far outweigh the cons. The price can't be beat, and the plan is extremely easy to manage. After all, I liked the plan so much that both my wife and I ditched our old plans for it!
I'll leave you with a few more pictures I took when I went to Walmart to activate my phone: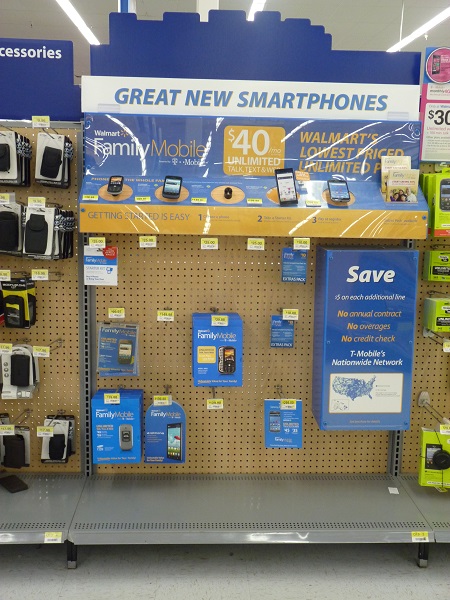 The new Walmart Family Mobile section at Walmart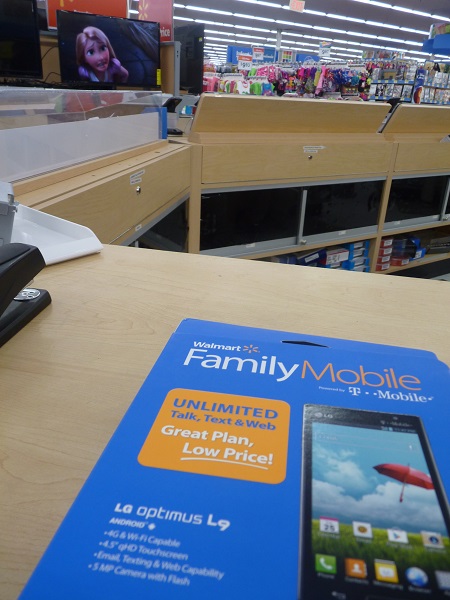 Purchasing and activation is painless in the store – we had a great employee who helped me activate my phone, a week later purchase my wife's phone and active, as well as transfer my number over when I decided to ditch my old plan.
For more pictures check out my Google+ album about my experience.
If you are interested in looking into alternatives to your current plan for you or your family, considering reading more about the unlimited plans that Walmart Family Mobile has to offer. #FamilyMobileSaves
________________
How much do you pay for cell phone service? Is it contract or no contract? Do you wish you paid less or are you happy with what you currently pay?
________________