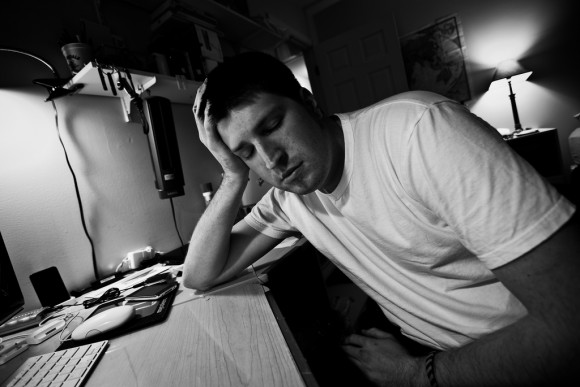 Life is stressful. Whether it's your job, school, living situation, or something else, there are an endless things that make us stressed out. There are also an endless number of (expensive) ways to relieve stress: vacations, a new home entertainment system, or a night at an expensive restaurants. If you're stressed out but trying to save money, there are ways to relieve stress on a budget.
1) Plan ahead and Get Organized
Planning ahead can be a great way to reduce stress before it starts. There are a number of ways to work this into your life including maintaining a calendar and planning your day and week ahead of time so that you can visualize how it will play out and maintaining various "to do" lists on paper or on your phone/computer that allow you to free your brain from the task of trying to retain all that information. Organizing, whether it's your house/apartment, files on your computer, or time, will help you to make more efficient use of your time and get the clutter out. It's also a good way to realize your limitiations. There are only 24 hours in a day and you can't get everything done or meet every demand.
If you are stressed out about finances, you can start by taking simple steps to start moving in the right direction. Again, there is only so much you can do in one day, week, or month. If you are stressed about demands on your time from various commitments, perhaps it's time to re-evaluate which commitments to keep and which to let go of.
2) Get More Sleep
Yes I know it's a bit ironic that I'm recommending getting more sleep as a way of relieving stress; usually it's stress that keeps us awake. If you used step one, though, to help relieve your mind of some of your anxiety about all the stuff you have to get done you should be able to at least attempt getting more sleep. Even if it's just anohter half hour or hour, the time you spend sleeping is an investment in your sanity.
Some things that can help you get more sleep is not drinking caffeine after a certain time of the day and reading before bed instead of sitting on your laptop or watching TV. I also find it helpful to get ready for the day the night before, as much as is possible. Picking out what you will wear, packing your bag, preparing your lunch, and generally just being prepared for the next day should help you sleep better.
3) Exercise
Exercising is one of the best ways to relieve stress. Not only does exercising help blow off steam, it's beneficial for your physical health, effectively killing two birds with one stone. Working out can be done at home, outside, or at a gym. If you are crunched for time, consider an in-home workout that you can fit into your schedule. Even a jog around the block a few days a week can make a big impact on your health.
I personally opt for the gym option. I love getting in a routine and going to the gym takes away distractions and gives me time for myself away from the daily demands of life. If you're worried about the high costs of gym memberships, read my post 5 ways to get the most value out of a gym membership for some advice on how to make the best use of your membership.
4) Find ways to relax at home
For some people, home can be a source of stress. Perhaps your roommates have been driving you insane or your kids are always being loud and running around. Relaxing at home may not be an option for everyone, but for some people relaxing at home can be a great frugal option. A few ideas are:
Watch a movie or TV show (get them from the library to save money)
Read a book (ditto on the library)
Listen to music
Play a game (video game, board game, online game, etc.)
Have friends over (only if it relieves stress and doesn't cause it!)
If you're home isn't the most relaxing place, it could take some "pre work" to get it set up in a way that is conducive to relaxing. Making cleaning and removal of clutter a priority is one way that can help. Investing in paint, furniture, and lighting that sets the mood for relaxation can help as well.
5) Take advantage of low-cost activities outside the house
If you're like me sometimes you just want to "get out" and get your mind off of things. Thankfully there are plenty of options available outside the home for people who are on a budget:
Movies on weeknights – Up to 1/2 half (or more) compared to Friday-Sunday
Shopping – For discount/clearance items (one of my favorite shirts was $3 on the clearance rack)
Parks, Beaches, and other free outdoor spaces – Play frisbee, grill, have a picnic, etc.
Happy Hour – My wife and I love going to happy hour with friends because the prices are usually really affordable
Just because you are on a budget doesn't mean that you have to stay in every night, especially if you are stressed out! Getting out of the house and work place can really help take your mind off of the day-to-day stressors you experience.
____________
What do you do to relieve stress?
____________
Photo by William Brawley