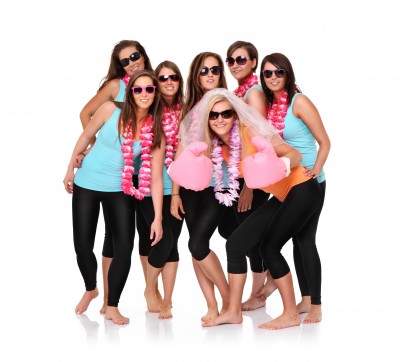 Did your bestie want a destination wedding but couldn't pull it off? Make up for it (in part) with a destination bachelorette party for the lucky bride-to-be. Follow this guide for tips on how to plan a fantastic party in another town.
Make a Budget
Destination parties are a great excuse to go nuts and have a great time. But that "going nuts" shouldn't mean your friends who attend the party have a serious case of buyer's remorse when they get their credit card bills. Make a budget before you set your plans in stone, so that everyone is sure to have enough cash for wedding gifts too. Planning a few months in advance will help you book a cheap flight for the party and possibly get a deal on accommodation too, so the sooner you make a budget, the better. If one of the ladies of the party is extra good with financial responsibilities, approach her to see if she wouldn't mind managing the finances for the bachelorette party too — it might set everyone's mind at ease if they know she's on it, and it will help take some of the pressure off of you, the maid of honour, who has plenty to do already.
Plan the Dates
For one thing, you're the lucky doll who's going to have to narrow down the common dates that the bride, you, and all the others who you can't forget to invite will have free. As mentioned above, planning the party a few months in advance may have some financial benefits; however, you will have to consider everyone's work schedule, as well as the bride's planning schedule. If the bachelorette party were to be in the same town as the wedding, you might have it a night or two before the big day or the previous weekend. However, destination parties are best scheduled up to several weeks beforehand, just to make sure that everything goes as planned and you return on time. An ill-timed flight delay could set the whole event back in a serious way if the bride misses some of her appointments or obligations before the wedding.
Plan the Itinerary
Unless the bride-to-be has a clear favourite destination that you know everyone would be happy with, it might be best to leave the itinerary planning until after you've nailed down the dates and the budget. Otherwise, it can be easy to get sidetracked and dither about where to actually go. Don't just think about places when you plan where to go, think about what you can do there. If no one in the party is into watersports, think twice about arranging a get together on the beach.
Get Others Involved
Just because tradition says that the maid or matron of honour has the privilege of arranging the bachelorette party, that doesn't mean she can't ask for help. Involving the other guests, especially ones who are close to the bride, or ones who are going to become close to the bride (cue groom's sister here), is a great way to make sure that everyone enjoys the party. It also takes some of the devil out of the details for you, as you'll be able to designate them to combing the web for coupon deals, silly costumes or car rental prices.
Include Lots of Pampering
One facet of your trip you might delegate is finding a great spa or other pampering opportunity at your destination. Yes, there should be dancing, and drinking, and a send-off of your friend's single life, but a good destination bachelorette party also includes some relaxing and rejuvenation before the plane trip home.
Be Sensitive
Bachelorette parties are notorious for their pranks and high jinks, and the temptation might be there to push the envelope further than usual when you're surrounded by a girls-only crowd of buddies. But, be sensitive to the bride's wishes and be careful of what photos end up on social media later. What seems like a great idea at 3 a.m. might not be quite so fantastic at noon the next day, so plan ahead to avoid embarrassment.
About the Author: Stacia Rice is a wedding planner in Ontario. She loves helping brides prepare for the special day and also enjoys hearing what went on at the bachelorette party before the wedding.
Photo by Kamil Macniak