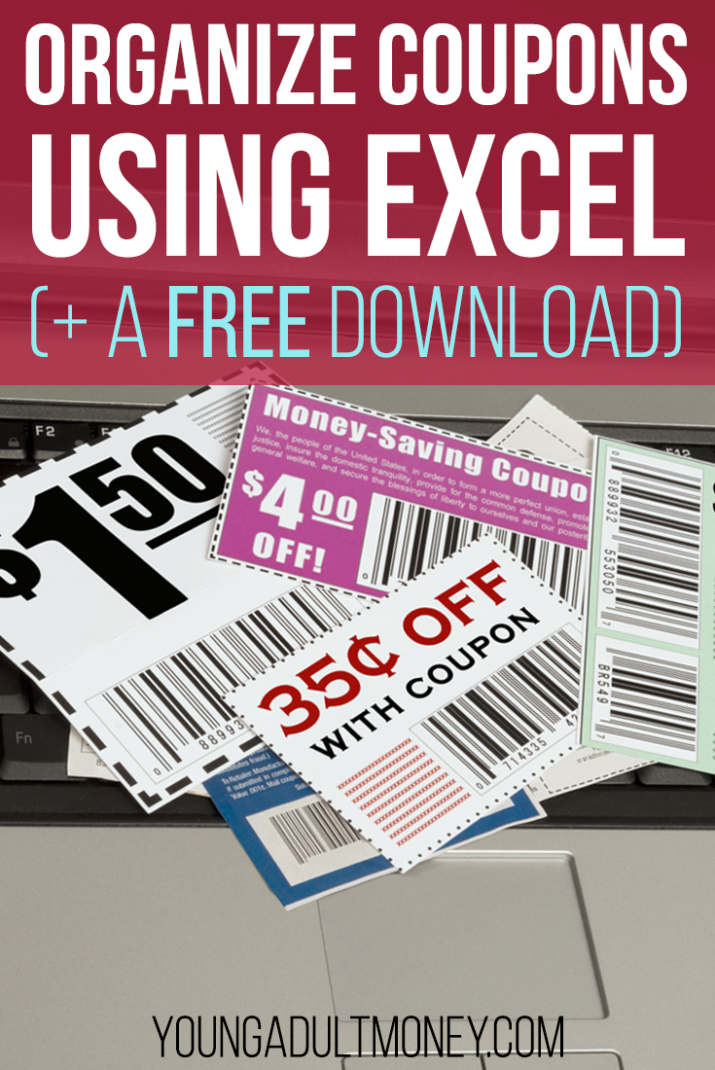 My wife and I started to coupon a little over a year ago. In that time we have saved in excess of $1,000 on groceries alone. If you count clothes, toiletries, pet supplies, and food from restaurants we've saved much more than $1,000, and that's just shopping for two people.
One problem we ran into as we got more serious about couponing is the fact that the more coupons you have the harder it is to manage and organize them.
Obviously everyone wants to save the most money with as little time or effort as possible. That's why coupons can be effective for advertisers; very few will take the time to learn how to maximize savings by using them.
Our solution was creating a database so we could easily sort through the coupons we have and discard those that have gone out of date.
Step One: Cut out all your coupons
Step Two: Enter all your coupons into the database
Entering the coupons goes relatively quickly once you get the hang of it. The following data needs to be populated for each coupon:
Expiration Date
Brand
Type
Description
Savings
Manufacturer or Store
Quantity

Once this data is entered, the envelope location column will automatically populate. If it doesn't drag down the formulas. This has to do with how the physical coupons are sorted. Below is an example of the database once populated (click image for full-size image):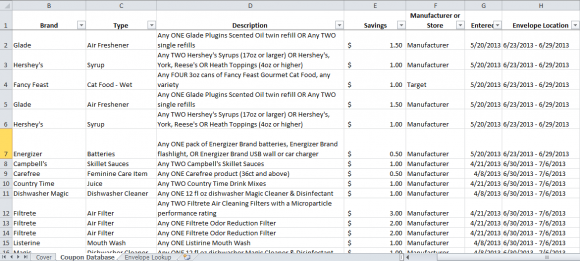 Step Three: Once you enter all the coupons, sort them in envelopes that have expiration dates spanning a given week. For example, you would have an envelope that holds all your coupons that expire 11/26/2017 – 12/2/2017, 12/3/2017 – 12/9/2017, and so on.
Congratulations, you've successfully sorted all your coupons using an Excel database!
Step Four: Find specific coupons to use
If you need cheese, all you have to do is filter on the "Type" heading for cheese. This will bring up all the coupons you have for cheese, including the details of the coupon.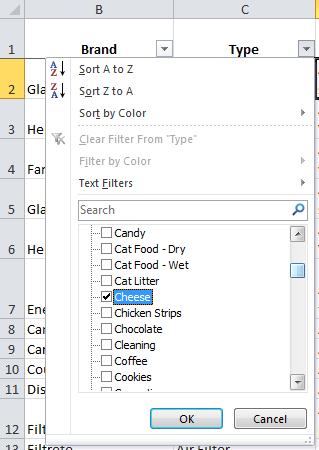 As you can see below, the only coupons in our database being displayed are coupons for cheese:

As you may know, some stores let you use both a manufacturer and store coupon on products. Target is one of those stores. If you filter on Purina for brand, you can see there is a manufacturer and Target coupon. Unfortunately in the below case these coupons are for separate products.

Obviously the biggest advantage of this database system is being able to filter the data and find specific coupons quickly and efficiently that you are going to use on your next shopping trip. If you are new to Excel, or simply don't use it that often, the filter option is found under the "Data" grouping on the ribbon:

Final Step: Once you've identified the coupons you are going to use, all you have to do is retrieve them from the various envelopes they are stored in. While this may require some manual sifting through coupons, the number you have to search through is greatly reduced from splitting them up into one-week expiration periods.
Don't forget to delete coupons out of the database once you've removed them from their envelopes!
An additional benefit of the database is that it's easy to trash expired coupons. Let's say an envelope houses coupons that expire from 8/5/2012 – 8/11/2012. On August 12th you can simply trash all the coupons in this envelope and delete them from your database. Filtering on "Expiration Date" from oldest to newest will allow you to easily delete the rows of expired coupons.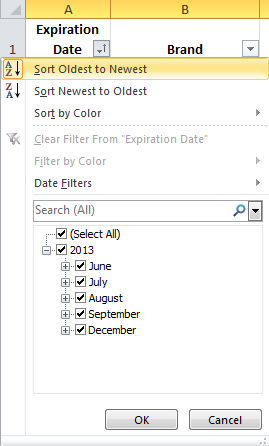 If you want the free coupon database in Excel fill in your email address below and then go check your email.
Join our Online Community to Receive your FREE Coupon Database in Excel
I hope this strategy of organizing coupons with a database in Excel saves you a ton of time and money!

If you have any questions or suggestions for upgrades, please leave them in the comments!
____________