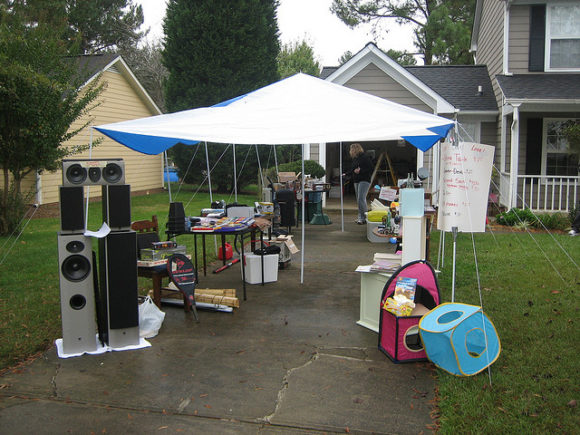 Well folks, it's garage sale season and we are joining the festivities at the Carlson household. We are just a couple weeks away from our garage sale and have been sharing a few posts on the topic, including 5 tips for a successful garage sale and things to sell at garage sales.
Today we want to talk specifically about how to prepare for a garage sale. I've attended enough of my parent's garage sales throughout the years to know that if you don't prepare properly you will have wasted a lot of time for very little return (in money or in reduced clutter). Today I want to share my own Garage Sale To-Do List. If you want a downloadable copy that you can print off (or tailor to your liking), click here for a copy.
Setting the Date & Getting Started
Check if there is a citywide garage sale
Set Garage Sale Date
See if friends/family want to participate with you or give you stuff to sell
Finding Stuff to Sell
Go through closets
Go through basement/storage
Go through kid's rooms
Go through Garage
Go through Family Room / Living Room / Entertainment Areas
Go through Attic
Getting Stuff Ready
Put everything in one place (make a massive pile of stuff to sell)
Set prices and label everything
Contact others about borrowing card/display tables
Pick up tables you are borrowing
Create signs making it easy for shoppers (i.e. All T-Shirts are size S/M, $0.50 per book, etc.)
Get Quarters, nickels, dimes, etc. from the bank
Advertising
Newspaper
Craigslist
Buy colorful signs to put near intersections the day of your sale
Bonus
Fill a cooler full of pop/water/Gatorade, etc. to sell
Fill a cooler full of pop/water/Gatorade, etc. to sell
Day Of the Sale
Wake up early and have stuff displayed at an early hour – people like to shop early
Post your signs at intersections
Put ice in cooler (if you are selling pop/water/etc.)
Be safe! Do not let anyone into your house, have two people working, etc.
Have Fun!
After the Sale
Donate everything that's left for a tax write-off
Return the tables you borrowed
Book a vacation with your earnings…err…I mean put your money in savings!
That's all there is to it! Okay, I'm pretty sure I'm forgetting something, but I think I covered most of the important things you should do in preparation. Our goal is $500 for our garage sale *fingers crossed*. I know my wife will use some of that to go shopping (she loves to shop but is so dang frugal we spend barely anything on new clothes), but the rest is still to be determined. Maybe savings?
I hope you enjoyed the list, and again, to get a downloadable copy click the image below.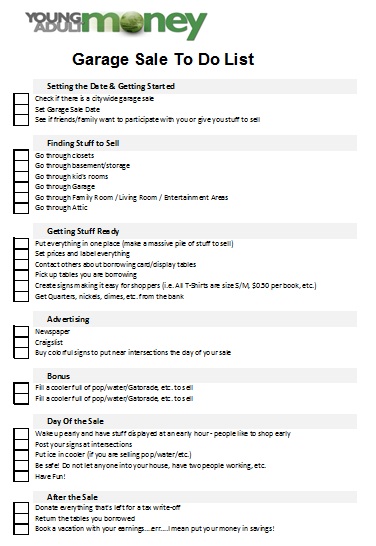 ____________
Photo (at top of post) by Rubbermaid Products