Welcome to the weekly Friday giveaway roundup! Every single Friday we post giveaways ending within the next week. If you want to make sure you never miss one of these posts be sure to subscribe via RSS or Email.
Happy Friday everyone! It was an eventful week, to say the least. We had fun launching our exclusive giveaway, an Aurorae Yoga Prize Pack valued at $137.
Besides that I do have an update on our sewer issue: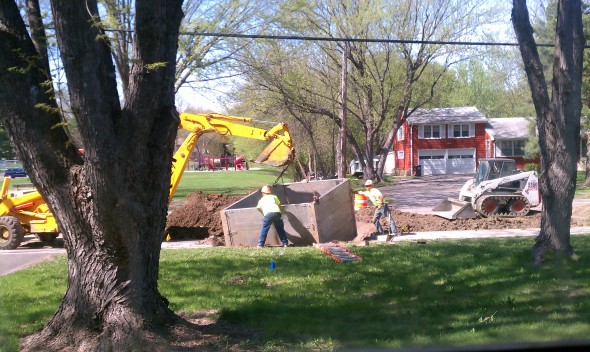 This is a picture of the guys working on fixing our sewer line on Wednesday and as of today we have a clear line! The whole process was very frustrating, though, and anyone who has had sewer drain-out issues knows what I'm talking about. We initially thought we were going to be on the line for $7,000. After waiting a couple months and having to deal with it backing up yet again, I immediately signed up for Angie's List and it was honestly one of the best purchases I think I will ever make as a homeowner. We found an incredible contractor who not only spent tons of time explaining the issue to me, he also contacted the city for permits, came out and evaluated the line, talked to the city engineer, and ultimately got the city to pay for the entire problem. Beyond that he also stayed in contact with me throughout the process and even contacted the city when I had concerns about how their contractor was going about it (turns out the city would probably have hired my contractor if the offending contractor wasn't repairing it "at cost," out of his own pocket). I will do a full write-up about this, specifically why I would advise everyone to avoid Roto-Rooter at all costs (they gave us the initial $7,000 estimate).
I hope to get a ton of yard work done this weekend. We have a family friend coming over to cut down our apple tree, which will be nice to have out of the way and will supply us with firewood for our new bonfire pit (see the pic below of our first bonfire ever at our house). I also plan on mowing, trimming, and possibly fertilizing this weekend. My ambitious goals also include getting wood from Home Depot and installing a couple of raised garden beds so my wife can get planting, as well as cleaning the garage in anticipation of our garage sale in two weeks.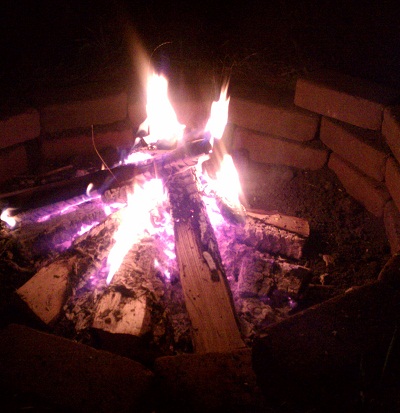 The reason I want to get all this done is because I have sinus surgery again next week so I will have to take it easy for a while after that. I had my first surgery last year and my post about the costs involved in sinus surgery is still one of my most popular posts of all time. Very thankful that we have been contributing the max to our Health Savings Account (HSA) this for about a year now. None of these surgeries were expected…yet here I am, literally hitting my out-of-pocket max for a second straight year. Here's to not having to go in for a third…or fourth surgery. Maybe next year I'll have better luck and only spend a few hundred in health care costs?? Wishful thinking, I know.
What are you up to this weekend?
On to the giveaways!
First, enter my current giveaways:
Once you've entered that one, check out the 200 giveaways (a new record!) that are ending from 5/17 to 5/23. Good luck!
All Giveaways Have Ended
____________
Good luck on all the giveaways and I hope you all have a great weekend!
____________
Photos by David Carlson