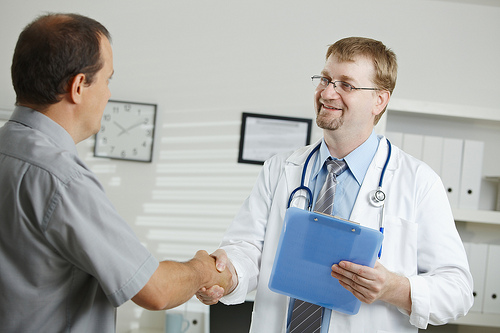 The new Health Care Reform law in the United States, known formally as the Patient Protection and Affordable Care Act (PPACA), is a complicated law.
Today I want to go over five of the major components of Health Care Reform and what they mean for you. Some won't affect you at all and never will; others may have a major impact on your life (and possibly already have). Regardless, all five are major changes to the health care system in the United States.

1) Health Insurance Exchanges
The creation of health insurance exchanges is easily one of the biggest components of health care reform. Health insurance exchanges are basically online marketplaces where people can go to a website, type in their information, and immediately get offers for insurance coverage. They will be State run unless a State opts for the Federal Government to run their exchange (most have opted to have the Federal Government run theirs). The official "launch" date of the exchanges is January 1st, 2014, though the current plan is for enrollment to begin in October of 2013. Whether these deadlines will be met or delays will happen is yet to be seen.
This is a high level explanation, and I go into a bit more detail in my post What are Health Insurance Exchanges and How Do They Work?
What does this mean for you?
If you are unemployed or your employer does not offer health insurance, you can get coverage through the exchanges. In theory signing up for insurance should be a relatively painless process. The important point is this: there will be a marketplace where anyone who wants health insurance can get it.
If you don't have health insurance through an employer, you are required by law to obtain coverage through the exchanges or pay a penalty. The penalty isn't much the first couple years, only a few hundred dollars. Even when it is fully implemented it will be only $695 or 2.5% of your income, whichever is higher.

2) Medical Loss Ratio (MLR) and Rebate Checks
One of the requirements of Health Care Reform is that insurance companies spend a certain percentage of premiums on medical costs. The medical loss ratio, or MLR, is the official calculation of how much premium revenue is spent on medical costs. MLR ratios are calculated for aggregation sets, which is a fancy word for State, Line of Business, and Legal Entity Breakouts. So how much an insurer spends on medical in Arkansas has no impact on the MLR ratio on people in Indiana, and vice versa. It gets more complicated, but that's MLR at a high level.
If you are on an individual or small business health plan, insurers must spend 80% of premiums on medical or pay rebates for the difference. Insurers must spend at least 85% of premium on medical for large group business or pay rebates.
What does this mean for you?
MLR means that you have the possibility of receiving a rebate check from your insurance company. In fact, MLR has been in place for two years now, and you may have received a check from 2011 (2012 checks have not yet been issued).
Because of how the law is written, whether your health insurer spent $0 or $100k on medical costs on you as an individual is essentially irrelevant; it depends on how much medical was spent on the entire aggregation set relative to the premium revenue of the entire aggregation set. Basically you might receive a check and you might not; how much that check will be is also anyone's guess.
As companies become better at pricing their plans with MLR in mind, I think it's relatively safe to say that unless the medical trend changes drastically, the overall amount of payments going out will become lower year-over-year.

3) Pre-Existing Conditions Will Be Covered
A major component of health care reform is that no one will be denied coverage because of a pre-existing condition. This is great news for many who have had to figure out how to get their pre-existing condition treated without going bankrupt. Of course, this has also posed a problem: how do you make health insurance affordable if you cover every claim? The answer is bringing everyone – healthy and unhealthy alike – into the health care system via exchanges.
What does this mean for you?
If you do have a pre-existing condition, your condition will be covered by your health insurance. This will also raise the overall cost of care, which is supposed to be offset (at least in part) by bringing everyone into the health insurance pool. There is a trade-off: you don't have to worry about something not being covered, but insurance rates will be higher starting in 2014.

4) Rate Bands – Insurance Rate Variance Will Be Limited
As I explained in my post Why Health Insurance Premiums Will Increase for Young Adults in the United States I discussed rate bands and how they are an important part of health care reform. Essentially they are meant to limit rate variance, or the amount that the cost of premiums can vary from person-to-person.
The factors that can be used for rating premiums are the following:
Individual or Family Enrollment
Geographic Area
Age
Tobacco Use
Again, it gets a little more complicated than this, but essentially the cheapest plan and the most expensive plan can only vary by a 1:3 ratio; the most expensive plan can only be three times that of the cheapest plan.
What does this mean for you?
Rate bands are going to raise the cost of insurance for the healthiest individuals and reduce the cost of insurance for those who cost insurers the most. If you are in your 20s or 30s, there is almost no question that your rates will rise because of this aspect of health care reform.

5) Dependents Can Remain on Parent's Insurance until age 26
A fifth major component of health care reform is allowing dependents to remain on their parent's health insurance plan until age twenty-six. This is a fairly straightforward regulation that attempts to help ease the transition that young adults face when going from high school to the work force or from college to the work force. No doubt the weak economic climate influenced the inclusion of this regulation.
What does this mean for you?
If you are twenty-six or younger, you will be able to stay on your parent's health insurance plan when previously employers would generally only cover under certain conditions, and coverage on a parent's plan until age twenty-six would be pretty rare. If you are a parent who is worried about whether your son or daughter will be able to find a job out of college, and subsequently be covered for health insurance by an employer, you can ease some of your anxiety knowing that they will be able to remain on your insurance.
With the insurance exchanges starting in 2014, this "safety net" regulation loses some of it's effect since everyone who is not covered by insurance will be able to log on to their State's exchange and sign up for insurance. Nevertheless, it may be cheaper (if not free…think of a family with three children on their insurance plan who pay the same price whether the children are on it or not) to stay on the family plan.
____________
Health care reform is complicated. While I gave a high level explanation of some of the major components of health care reform, there could be whole books written about each of these topics and how they will impact various groups of people and the system as a whole. Hopefully you gained some insight into how the law will affect you, and I encourage you to keep looking into these topics to see how you can benefit from the law.
____________
Photo by Vic