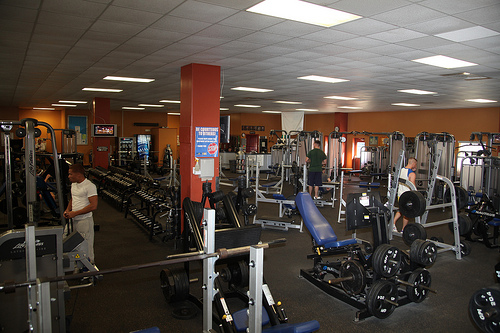 There's quite a few bloggers out there who will tell you that a gym membership is something you can go without. While I do not necessarily disagree with this, I think most people are far more likely to work out and get in shape if they have a gym membership.
1) Wait for the right deal
Just last week my wife and I signed up for a gym membership for just $10/month. There is an annual fee of $29, but no contract. We waited a long, long time before signing up for a gym even though we knew we both were interested in having a gym membership so we could work out closer to our house as opposed to working out at work. If you are patient and keep looking for the best deal, eventually you will find one that is in your price range (or less). Look for gyms that are opening as they are likely going to run some sort of promotion the first couple months.
2) Know what amenities you need or don't need
Some gyms can be classified as premium because they have all the amenities you could want: a pool, basketball court, track, top of the line equipment, daycare, etc. What these premium gyms won't tell you is that having all these amenities drive up the cost of membership. If you can go without certain amenities, there are gyms out there with cheaper membership rates. Probably the most important money saving tip when it comes to gym membership is this: do not join a gym with a daycare unless you have kids. Otherwise you are subsidizing all the families taking advantage of the on-site child care.
3) Get in a routine
We've all heard of people (or maybe even personally experienced) joining gyms, going for a week or two, and never returning. To avoid this behavior, get in a routine of going at a regular time of the day consistently throughout the week. It can be as simple as going Tuesday and Thursday nights. Even better is if you can go every weekday at the same time. I have worked out during lunch at work for the past year or so and when I miss a day it doesn't feel right. It's strange for me not to work out.
4) Make use of online resources
There are a ton of online resources when it comes to health and fitness. Primarily what I look for online are different free weight exercises, though there are thousands upon thousands of other exercises posted. My personal favorite is Men's Health, though there are countless other websites dedicated to health and fitness.
5) Check with your health insurance for discounts
There are a number of health insurers who offer discounts on your gym membership if you go a certain number of times per month. Before signing up for a gym (or even after you have signed up) be sure to ask the gym if your health insurer offers discounts. You just might be able to get a free membership after the health insurance subsidy.
____________
In the end, getting the most value out of a gym membership is actually very simple: use it! The more you go to the gym and take advantage of the facilities, the less you are paying on a per-visit basis. Plus you are much more likely to get in shape if you hit up the gym regularly.
Do you have a gym membership? What do you do to get the most value out of it?
____________
Photo by CherryPoint