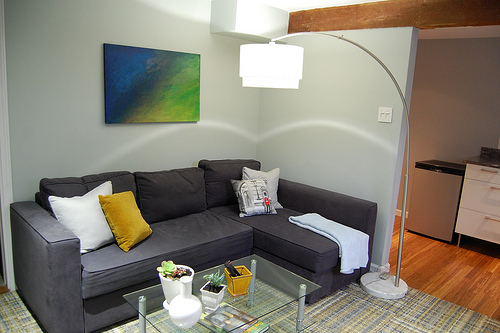 After you move into a new home or apartment, the cost of decorating can quickly add up. If you are on a tight budget or simply do not want to spend a lot on home décor, there are 5 main ways that you can save money on decorating your home:
1) Do It Yourself (DIY)
With so many websites and blogs out there providing ideas for various crafts and DIY projects (Pinterest anyone?), you can create just about anything simply by finding directions online. It can be drastically cheaper to make your own décor from scratch versus paying someone who has already put the craft together. No matter what your style is or how you want your home to look, there are not only ideas available online but also step-by-step instructions on how to create countless things.
2) Coupons
If you are not crafty or do not want to spend the time on a lot of DIY projects, coupons can save you lots of money. Coupons for home décor stores are online constantly. You can sign up for certain stores insider coupons and get them sent to your email daily. For example, I had never been to Kirkland's until they opened up a store just a few blocks away from our house. I went there to look around and get ideas on things I could make. Lucky me, they had a sale going on! As I was checking out, the cashier asked if I got their coupons sent to my email. I am so glad she suggested it because now if I ever decide I want to decorate more in my home, I have coupons readily available. Further, if you wait for deals and sales, you can combine these discounts with your coupons for even more savings.
3) Craigslist and eBay
Every single day people are constantly listing things for sale on Craigslist and eBay. While you may have to look hard to find things that are both affordable but are not completely out-of-date or in rough shape, it can be worth the time and effort. We found a kitchen table and chairs for our dining room for only $130, but they look like they cost at least three times that. Especially for bigger decorative pieces, consider roaming Craigslist or bidding for things on eBay.
4) Thrift Stores
I absolutely love going to thrift stores. Nevertheless, many times the things there are way too "vintage" or antique for my taste, but I also often find at least one thing that I can get excited about that fits my style. I have bought numerous things for parties at thrift stores, countless picture frames, and many unique vases that I have simply cleaned or changed slightly to make beautiful again.
5) Simplicity
I am all about interior decorating, crafts and making my home show my personality. As I have begun to decorate our new house, though, I have realized that simplicity can really be amazing. Many have heard the advice "live simply" and "consolidate your material things." When it comes to home décor, this principle of living simple can definitely be applied. Keeping your home décor simple can create a fantastic environment, show your personality, and save you money all at once.
How do you save money on decorating your home or apartment?
____________
Photo by Kevin Krejci