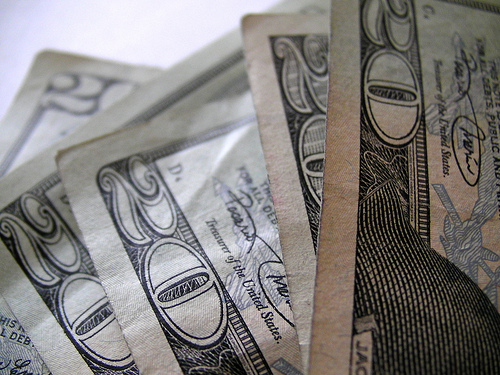 When it comes to reaching financial goals, there is often a two-fold approach that people take. A lot of focus in the blogosphere is put on how to save more money or stretch your dollar. While I love to save money and cut out unnecessary expenses, I think many people would be better off if they focused some more energy on making more money.
While I work hard at my full-time job and spend the time and energy performing to the best of my abilities and developing the skills and expertise that will eventually help me move up the ladder and in turn maximize my earnings potential, I also spend my nights and weekends focusing on earning additional income. Below are five ways that I earn side income and a little bit about my experience in each.
1) Blogging
This is kind of a "duh" answer, since you are reading my website and probably can't help but notice the ads on the side. As I mentioned earlier this week in 3 reasons you should blog, there are options for monetizing a blog or website. Besides the ads on the site, there are affiliation programs such as Amazon, where if you click on an affiliate link of mine and end up making a purchase, I receive a tiny percentage for my troubles. The options for making money blogging are essentially endless and I personally know a number of people who make a side or full-time income running a blog.
2) Rental Income
Rental income is probably my favorite source of side income and my wife and I have talked many times about how we would love to have at least one or two rental properties. While a stand-alone rental property may not be in the cards for years for us, we did convert part of the house we bought last year into a studio apartment that we rent out to a friend of ours. While we are only two months into renting, it has worked out well for us and it's nice having that consistent rent check depositing in our bank account each month. I'd encourage young adults who are looking for homes to consider one that has rental possibilities.
3) Spreadsheet Consulting
As I started my career in finance a few years ago, I quickly realized there is a ton of manual labor that goes into running processes in Excel and other Microsoft software (Access, Outlook, etc.). I've spent the past nearly three years developing my Excel skills (check out my post here if you are interested in developing your Excel skills as well) and have been fortunate enough to get a little side cash helping a friend's small business upgrade and maintain their spreadsheets.
There is a ton of demand for affordable spreadsheet and database help with small businesses, so if you are interested in making some side income working in Excel or Access, I would highly recommend making sure your friends and network are aware of your skills. You never know, one of them might ask you out of the blue for some help (that's how it's worked for me).
4) Selling on Ebay/Craigslist or Garage Sale
Selling things you own obviously requires you having the stuff in the first place, so some may say this isn't exactly an "income source." I count it as one, though, and have mentioned many times that I have a mountain – literally a floor to ceiling pile – of stuff that my wife and I need to sell on Ebay, Craigslist, or at the garage sale we are planning in the Spring.
One reason I count this as an income source is because we enter a ton of giveaways and inevitably end up winning every now and then (my wife won three or four this week alone). Of course, the stuff we win isn't always something we want to keep and we end up selling it and keeping the cash. If you are interested in giveaways, consider subscribing to the blog via RSS so you can receive my Friday giveaway roundups each week. Or just bookmark the site and stop by every Friday ;)
5) Freelance/Staff Writing
Freelance writing can be a great source of income, especially if you enjoy the following:
Writing
Working by yourself as opposed to in teams
Not being confined to a single physical work location
There are an endless number of websites that need content on a daily basis and are willing to pay talented writers to create that content. I haven't pursued this too aggressively in recent times, mainly because I had just about zero free time, but now that we got our rental property ready and my current spreadsheet consulting job has all but ended, I will likely pursue a couple freelance writing jobs in the near future.
____________
These are just five ways I have made side income and continue to make side income. There are trade-offs with pursuing side income, the most obvious being loss of free time and feeling like you are always working. Overall, though, I think it would benefit many young adults to consider what they can do to make some money in addition to their full-time job.
Do you pursue side income? What side income sources have you considered pursuing?
____________
Photo by Sh4rp_i