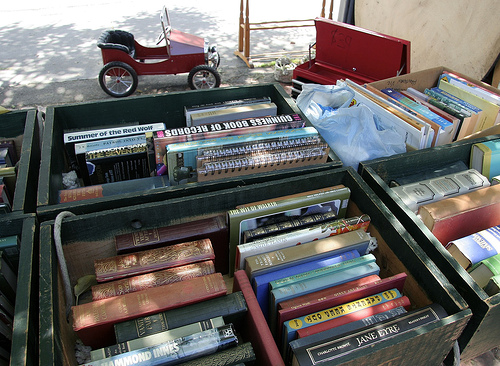 As the temperatures start to increase, the snow starts melting, and the days get longer, everyone starts thinking towards Spring. While I personally prefer Summer, I'll settle for Spring after the long, cold winter we've experienced here in the Midwest.
Spring also means Spring Cleaning. You can spend as much or as little time on Spring cleaning as you want. Today I want to think a little outside the box when it comes to Spring "cleaning," and offer up a few more things you should try to get in line before the Summer comes.
Clean – then Sell
If you do decide to clean your house, start making a pile of things you don't use or don't need anymore. My wife and I have been doing this for a few years now and have a huge pile of stuff to sell. We plan on having a garage sale in the Spring/Summer, as well as putting some stuff on ebay. We also have been winning some giveaways and to be honest, it's not always stuff we need.
I don't know about you, but cleaning, especially deep cleaning, is a lot easier when you know you'll be able to make some money after it's all said and done. Even better is if there is some specific thing you really want to buy but can't justify – like a tablet. Use the money you make from selling things to treat yourself (and you thought I was going to tell you to make an extra payment towards your
Update Your Resume
I realized recently that my resume hasn't been updated in over a year. I know some people who haven't updated their resume in a decade…or longer! It's a lot easier to maintain a resume if you are update it regularly.
Another thing career-related to think about is what your next step will be. I have been thinking about this myself, as I have been considering whether or not I should get an MBA. Do you need to develop new skills? Network more? Go back to school? These are all legitimate questions that young adults should be asking themselves on a yearly basis, at minimum.
Organize Your Electronic Files
My computer is a mess. I always have tons and tons of files, but never get around to organizing them in an efficient manner. I'm always impressed when I borrow my wife's external hard drive and everything is organized neatly into their own folders. Then I go back to my computer and see the "Archived" folder that I end up throwing old files into after my desktop or documents folder fills with too many files…yikes!
It's easy to forget about electronic files because they aren't as visible as clutter around your house. Like I said, I have an archived folder which essentially is the equivalent of a basement where you continue to put crap until you really need something…and if you're lucky you get around to cleaning it up a bit every few years.
If there's one thing I don't want to be doing when it warms up outside, it's spending hours upon hours organizing my electronic files. I hope to make organizing my electronic files as part of my yearly Spring cleaning.
What do you do for Spring cleaning? Better question: what should you be doing for Spring cleaning this year?
____________
Photos by macinate