$500 Cash Giveaway – Save Money this Spring through Planning Ahead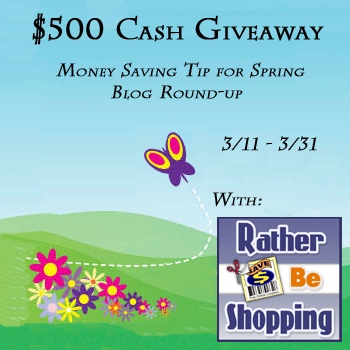 Spring means many things: melting snow, rising temperatures, and Summer just around the corner. Here at Young Adult Money it means time for another $500 cash giveaway!
My best money saving tip for you this Spring is rather simple: Plan Ahead
Planning ahead can result in cash savings in many different ways. Here are a few of them:
Plan ahead for groceries and other purchases

Make a list before going grocery shopping, and stick to it. I can guarantee you that you will save more money this way than going and buying whatever you think looks good. Also, when you plan on purchasing something online, look for online coupon before making that purchase. Ideally you can wait for a good deal before buying something, but sometimes the best you can do is do a quick search for deals and discounts and go with the best one you find.
Create a Budget

Budgeting is, at it's core, about planning ahead. Knowing how much you are allowed to spend for entertainment, clothes, gas, etc. will help prevent you from splurging or spending recklessly. Of course, it all starts with tracking your expenses. If you don't know what you are spending, you won't be able to set a realistic budget.
Plan for unexpected expenses

Life happens. Whether it's finding out your house needs a $7,000 sewer line repair, or some other unexpected expense, there will always be something that comes up and potentially crushes your finances. The best way to deal with the unexpected is plan for it: put money in your Health Savings Account, set aside a little bit extra each month in a general savings/emergency fund, and live within your means.
How has planning ahead saved you money? What is your best tip for saving money?
On to the giveaway!
This giveaway runs from March 11th to March 31st. Enter via the Rafflecopter widget below. Good luck!