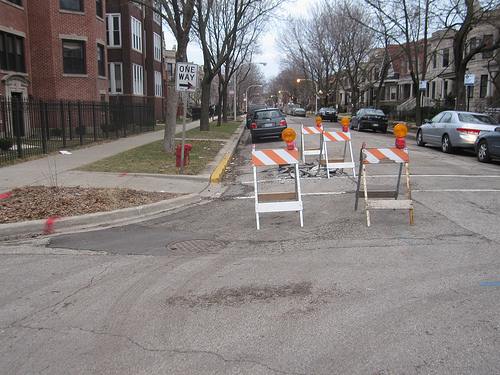 We recently had an unexpected plumbing problem that resulted in us finding out there is a costly repair that we will need to make to the sewer line. Here's how it happened:
A couple hours after we get home from the airport on Sunday night, our renter comes upstairs to tell us there is water on the floor. After looking for leaks, we realize it was all coming from the drain on the basement floor backing up, causing water to overflow and spread to her bathroom.
After a quick Google search (what did people do before Google?!?) I realized we would need the drain cleared out and the expected cost was approximately $270-$300.
The next morning, a plumber comes out and informs me the only exposed sewer clean out was under the toilet…an additional $130 expense bringing the total cost to $409.
After clearing out a bunch of roots, he is unable to make it all the way to the main (city) sewer line. He hits some resistance at 75 feet and only a 1-inch blade makes it through (vs. 4+ inches for the rest of the line). He recommends having a camera look at what is causing the issue. Another $75.
The next day we get a camera down there and everything looks great all the way to 80 feet, where the camera shows the issue: a leaking joint, which means the seals between pipes have broken, disconnected or corroded, allowing waste water to escape into the areas surrounding the pipe. The cost for repair? $6,700.
Before I get into the specifics of why sewer line problems really, really, really suck, I want to share the main conundrum of this all: no one knows if the line will even back up again anytime soon.
Here's how the conversation played out between me and the plumber:
Me: So, what are the chances that it will back up again? How often will it back up?
Plumber: It will definitely back up again, but how often is the million dollar question.
Me: Or, in my case, the $6,700 question.
Plumber: No one can know when it will back up, or how often. The problem is, it's just a band-aid and eventually it will need to be fixed. Did you want to do it or not?
Me: I think I want to just wait and see how often it backs up. If it can be put off I'd prefer that.

Plumber: Okay, well unfortunately you are responsible for the pipe all the way to where it connects to the main sewer line. Even if it's under the road or across the street. We can snake it each time it backs up, but it's a band-aid and not a permanent fix.
Me: Great.
So I brainstormed why sewer line repairs suck, and here's what I came up with:
Expensive – I had a friend who said they were quoted closer $10k-$14k for a sewer line repair. These repairs aren't cheap and require a lot of digging, potentially digging up of sidewalks and/or the road.
Doesn't add value to the house – When you get a house appraised, they assume all the sewer lines are working correctly. In a situation like this, there is a chance that the previous owner never had issues and therefore has no idea about the problem. Even worse is if someone sells the house who has never lived in it, where they basically don't have to disclose anything.

Further, the inspector would not catch something like this during their inspection of the home. It's not like they send a camera down the sewer line during the inspection.
It has to be done – Because we know about the issue, even if it never backs up again we will still have to make the repair. Why? Because we essentially have a "starter home" and there is no way a first-time home buyer, or any home buyer for that matter, would purchase the house without demanding we pay for the repair.
Ultimately, it's not a great feeling to be stuck with this problem. I've accepted the fact that we will have to make the repair, hopefully later on when we have the money set aside for it. I'm grateful this happened now versus closer to when we are planning on selling and buying a new home.
All I know is…sewer line problems suck!
Have you ever had an expensive home repair come up? How did you react?
____________
Photo by Daniel X. O'Neil