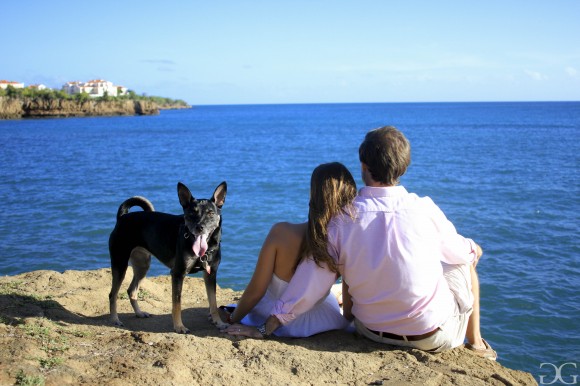 When my husband and I decided to move to the island of Grenada in the Caribbean, it literally felt like a dream. We were so excited, and we knew that it was going to be absolutely beautiful there. However, moving abroad is not for the faint of heart, and there were so many things that we needed to consider both financially and personally before we were confidently able to step on that plane and change our lives forever.
If you're thinking of doing the same thing, below is a collection of steps that we'd recommend to anyone who is contemplating jumping across a pond and starting a new life.
1) Storage
Many of our friends here in Grenada pay for storage units back in the States. I'm not a big fan of paying for storage units, so we sold almost everything we owned including beds, sofas, chairs, and tables. You name it, we probably sold it. We're keeping a few unopened wedding gifts, other special mementos, and a stack of framed artwork at my in-laws' house, and that's all we own. Many places abroad will come furnished, and I would recommend looking for a place that is furnished initially so you can get your bearings.
2) U.S. Mail
It's really important to have someone you trust receive your mail for you in the States. Through my freelance writing business, I still receive monthly checks for my work, which go to my in-laws' house. They have graciously checked our mail, opened important items for us, scanned documents for us, etc. Even if you plan on living abroad indefinitely, it's important to have mail sent to a family or friend's house for the first few months to a year, just to make sure you have all your bases covered.
3) Finances
We resisted getting an overseas bank account for a while, but eventually it became a necessity. Overseas banks typically have a whole list of requirements for non-nationals, so it would be wise to bring a bank letter from your bank in the U.S. saying you are in good standing. We also researched banks and credit cards that waive foreign transaction fees. As it stands now, I withdraw cash for monthly expenses and use those Eastern Caribbean Dollars to pay for groceries, gas, and rent.
4) Visas
Unless you are going to attempt to become a permanent citizen of your new country, you're going to need a visa. Some countries are quite strict about these, and others, like Grenada, are quite lax. At first, I just had to pay to extend my visitor visa every three months. Then, I got a job, and they took care of it because they purchased a work visa for me.
5) Pets
There are so many things to consider when you have pets. Many countries will hold your pets in quarantine for a specified period of time, and there's really no guarantee that you will get your pet back. Once again, we researched this very heavily for Grenada, which does not quarantine. We fly directly here every time, regardless of how cheap other flights are, just to avoid a possible quarantine for our dog. There are often requirements for rabies vaccines as well. We carry documentation with us everywhere for our dog. Certain places will not recommend flying your pet under the plane due to high temperatures. There are also companies that will ship your dogs and guarantee that they will be well cared for. So, if you are set on bringing an animal with you abroad, you must do your research and plan it very carefully.
6) Culture
Regardless of the place you move to, no matter how well traveled you are, you will have culture shock. It might not hit you at once, but it will come in slow bursts over time. Even when you are numb and immune to certain things, you'll be surprised at what you find out even years after moving to a place. I think a lot of people believe that life will be like it is on a vacation when they move abroad. They visit Costa Rica or the Caribbean or Italy and want to get a house there, believing that it will be as relaxing as a vacation all year round. However, I think it's important to note that life is life regardless of where you are. You are going to replace your frustrations from home with new and different ones.
That being said, there are tremendous perks to living abroad. While moving to Grenada took serious time, planning, and getting used to, it's also one of the most amazing things I've ever done. It's opened my eyes to the world. It's made me a more well-rounded person. It's given me great peace, and it's allowed me the solitude to really think about what I want to do with my life. I am forever changed by this little island, even with its unique quirks, and I hope that one day everyone gets the opportunity to live, really live, in a place so different from their own.
Catherine Alford is a freelance writer who currently lives in the Caribbean with her husband and spoiled pup, Julep. She received a B.A. from The College of William and Mary and an M.A. from Virginia Tech. When she is not freelance writing for other websites on all topics frugal and fabulous, she enjoys sharing her adventures on her blog, BudgetBlonde. Follow her on twitter @BudgetBlonde.
Photo by Allison Gray