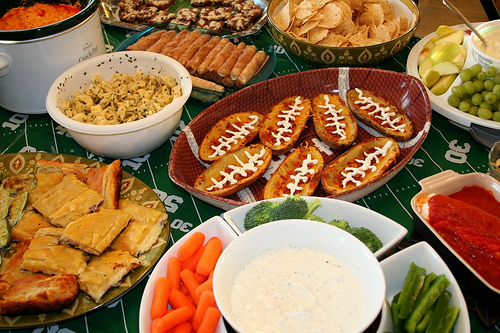 From hilarious commercials, great music performances and nerve-wracking football plays, Super Bowl XLVII is sure to have all the makings of a great time with family and friends. If you are hosting a Super Bowl party, it can get expensive if you plan on hosting more than a couple of people. Whether you are on a budget or have all the money you could want right now, here are six specific ways you can host a party without breaking the bank:
1) Coupons
I could never stress enough the importance of coupons. It still baffles me when people don't use coupons for things when they literally can be in the palm of your hand on your smart phone. If you are on a tight budget this Super Bowl season, but you still love hosting, the easiest thing you can do is look for coupons online or in the newspaper. There is bound to be coupons for at least half of the products you intend to buy for your party.
2) Be Creative with recipes
By simply looking online, particularly Pinterest, or in a cookbook, you can save money by getting creative in the kitchen. Instead of buying party platters (which often are way overpriced), buy cheese, crackers, and vegetables separately and design your own platter with things you and your guests like the most. Instead of ordering pizza and having it delivered, make your own. Then you can pick just how much sauce, cheese, and toppings you want. Instead of buying salsa, make your own. Instead buying cookies or another dessert, make your own.
3) Smart cleaning
If you are anything like my husband and I, we clean hardcore before having people over to our home. Not only do we have allergies ourselves, many of our friends do as well, particularly to our cat. In my previous post on Ways to Buy Safe Cleaning Products on a Budget, I mentioned four specific products that can be used to cost-effectively clean your home. Another product that my husband and I would recommend to everyone is a steam carpet cleaner. We use ours just about every week because it is easy to use, fast, and can get all those nasty allergens out of your floor.
4) Thrift Stores
Often when we plan to host a party, we forget that we have to have specific supplies to do so, such as tableware or serving ware. Often, young adults do not even have the space in their living environment to store many different types of serving ware for all occasions. If you want to host a Super Bowl party this year but lack the equipment to do so, check out your local thrift store for cheap and unique items to use when serving your guests. This way, you are not spending a lot to buy the items and you can get rid of them or sell them right after if you do not have the space to store them.
5) BYOB
Maybe you are super uncomfortable asking people to bring their own beverage of choice. But if you aren't and you would love to save a considerable amount of money, ask your guests to bring their favorite drink (to share or just for themselves). This way everyone is happy because they are drinking their favorite drink without complaining that there isn't anything they particularly would enjoy and you are happy because you didn't spend loads of money buying a wide selection of beverages.
However, if you are uncomfortable hosting guests and asking them to bring their own beverage, be smart in the things you choose to buy. For example, frozen juice is often less expensive then buying bottles. Or consider buying cans of soda rather than different kinds of 2 liters, which often result in tons of leftovers that will just be poured out.
6) Plan ahead
It may seem like you shouldn't have to really plan to host a Super Bowl party because I mean really, what more do you need than delicious food and a T.V.? But if you are money conscience and are wanting/needing to save, you absolutely have to plan ahead what you will be purchasing and what you already have that you can use. If you make a list of purchases, it will be a lot easier to price compare between a few different stores in order to get the best deal possible instead of just grabbing things off of the shelf because you are shopping the morning of the Super Bowl.
Are you hosting for this year's Super Bowl or have you in the past? What do you do to save money when hosting people?
____________
If you are interested in getting coupons online, check out Coupons.com:

____________
Photo by Triple Tri