On Monday the wind chill in Minnesota approached -50 degrees. That's pretty dang cold. I don't want to hear anyone complaining about temps in the 30s 40s or 50s being cold!
As a recent homeowner, one thing I am hating is the relatively huge jump in our energy bill. There's a LOT more space to account for in a house versus an apartment. The frigid weather that makes up Minnesota winters hasn't helped.
Below is five ways to save money on your energy bill. Some require more up-front investment than others, but all are good things to keep in mind – especially if you have to live through freezing cold winters.
1) Turn the heat down when you leave or go to sleep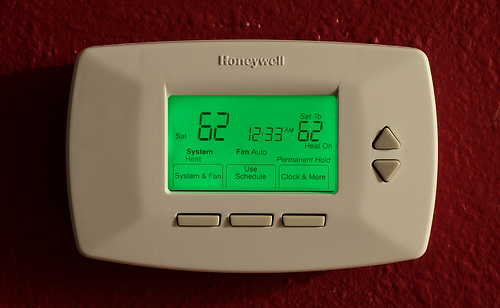 Photo by John Loo
Turning the heat down when you leave the house or go to bed is the simplest way to save money on your heating bills. It only requires either programming a thermostat to drop the temperature at night and when you are gone, or to manually change it whenever you leave or go to bed.
Of course, this works better if everyone in your household is gone around the same time each day, but for the most part people sleep at the same time so that's a time you can definitely turn the thermostat down.
2) Buy energy-efficient appliances
Old appliances may last longer than newer ones, but they will cost you more money to run. Every year appliances get more energy efficient. I don't think you can shop for appliances these days without a high majority of brands boasting their energy efficiency.
We recently replaced two very old appliances in our rental unit (think 20+ years old). While I can't say how much it would cost to run them, I can only imagine the difference would be material when comparing the cost of those versus the cost of the two new appliances we purchased. Plus, it's always nice to have new stuff ;)
If you are in the market for new appliances, check out this offer from the Home Depot: 10% Off Appliances $397 or More. Plus, Free Delivery and Haul Away. Online Only.

3) Seal windows during the winter
If you have old windows you are likely losing a lot of heat during the winter (and subsequently spending a lot more money on heat). Sealing windows is a relatively quick and inexpensive process. The 3M Indoor Insulator Kit
costs just $19 and covers five windows.
Ideally you could just replace all your windows with energy efficient ones (sometimes there are even tax credits available if you go this route). If you don't have thousands in your budget for new windows, sealing them is a quick and inexpensive fix that will help you retain more of the heat in your home.
4) Fix drafty doors
Our front door is a major source of energy loss for us. There is a constant draft that comes through the bottom, resulting in loss of warm air in the winter. The quick fix is putting towels under the door. Additionally, it's important that there is some sort of insulation around the edges of the door. I recently replaced the doorknobs on our door and had to remove some of the insulation. You can feel the difference when you put your hand by that part of the door versus the insulated portion.
Thankfully for me (and anyone else with a door that is costing them money from heating/cooling loss) the fix is fairly simple and inexpensive.
5) Install energy-efficient toilets
If you haven't gone toilet shopping recently (I don't know many who have) you might not know that toilets are relatively inexpensive. If you shop for one that is on sale, you can find them in the $50-$150 range. The newer toilets are energy efficient and result in savings on your utility bill.
Similar to the old appliances I recently replaced, I also replaced a (very) old toilet. They are very easy to replace and even if it's your first time replacing one, you can learn how to do it quickly through a Google search.
_____________
What do you do to save money on your energy bill? If you own a house, do you have any long-term plans to replace windows/appliances for the energy savings?
____________