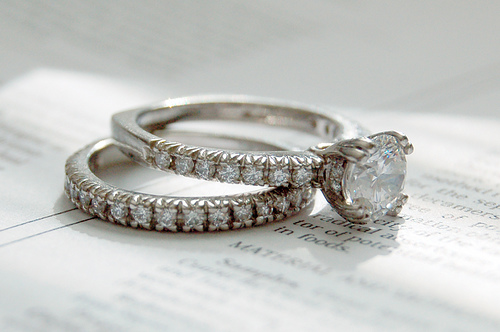 I was reading a blog post a few weeks ago that argued that in order to save money, you should not buy a diamond for an engagement ring. With all of the engagements that happen around the Holiday season (I recently heard as many as 40% of couples get engaged during the Holiday season), engagement rings are a topic that is on the mind of many guys looking to pop the question. Whether you are thinking about proposing next week or marriage is not even on your radar, you must think about the quality of the ring you purchase now in order to save money in the future and have a ring that your spouse will be proud of for years to come.
There are three things that I want to touch on when it comes to buying an engagement ring:
1) This is a ring that is supposed to last "forever" (aka an entire lifetime)
You can buy any kind of stone today for an engagement ring and they are usually all beautiful. In fact, you can save LOADS of money by doing so! However, most stones are not made to last 40, 50, or 60 years when worn every single day.
Unless you are considering a different stone because your future wife really doesn't like diamonds, or a certain type of stone holds some sentimental value to one of you or as a couple, it is not a good idea to purchase a non-diamond ring. Diamonds are known in the geology world as one of the hardest, most durable natural substances known. If you are purchasing an engagement ring, I would hope that you are confident that you will be married to your significant other for more than five to ten years. By going the cheaper route now and getting a different type of stone just to save money, you could be screwing yourself over later because you will have to buy a whole new ring when the stone doesn't last.
2) Should you buy online?
NO! Often, buying online is going to be way less expensive than going to a big-name jeweler, such as Shane Co and definitely will be cheaper than going to Tiffany and Co. While I am not suggesting you have to go to the biggest, most expensive jeweler in the U.S. just to get a good deal for the future, buying online can end up costing more than you think. Most online stores do not have warranties built into the purchases. Warranties allow for the owners of a ring to be able to get their ring adjusted, cleaned, or fixed whenever they want…and usually free of charge. These costs can add up quick.
You may know yours or your girlfriend's ring size already, but who is to say that won't change when she is 60, or gains/loses a lot of weight? Will you or your girlfriend do everything to make sure the ring never, ever gets dirty? Will the stones never get loose? Probably not. The warranty that often comes with specific stores and in-person jewelers are important when adding up the total cost of purchasing a ring. Saving money by buying online isn't really saving money at all when the long-term costs are considered.
3) Clarity matters
A lot of people may try to convince you that clarity doesn't really matter and that it is just a way for a jeweler to get more money out of you. However, in reality the clarity level does matter. This is not to say that clarity is the only thing that matters when it comes to a diamond. What I am saying is that the higher level of clarity you get, the nicer the ring will look years down the road. It will always sparkle like new and will be something that you and your future spouse can be proud of for years to come.
When it comes to engagement rings, what is most important to you? Any tips for those who are looking to buy a ring sometime in the near future?
____________
Photo by ilovebutter