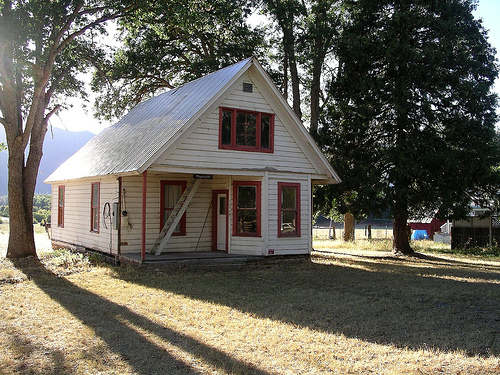 When young adults are considering their first home, a fixer-upper is a very tempting choice. With a fixer-upper, there is the opportunity to create value through making upgrades and renovations. There is also the fact that when a fixer-upper is on the market, the buyer has the leverage when it comes to negotiations. Finally, these homes are usually less expensive than a comparable home that is fully upgraded and move-in ready.
When my wife and I bought a home we didn't necessarily look for a fixer-upper. What we were looking for, though, is a home where we could potentially put some work into and therefore "make it our own." We also liked the idea of buying a home and putting in upgrades that would make it "show" better in the future when we try to sell it. We actually ended up narrowing our search down to a few homes, one of which would need more work and another that was pretty much fully upgraded (it even had a heated driveway!). We ended up going with the home that needed a little TLC, mainly because of the location of the home as well as some of the features (three bedrooms on one level, good "bones", etc.).
If you are considering looking for a home that is a fixer-upper, or that is outdated, I have a few things that I would recommend you consider before making an offer and signing the closing documents:
Potential Major Expenses

Always check things like the furnace, air conditioner, roof, etc. before buying a fixer-upper. This is true with any home, but particularly important if you are getting a fixer-upper where you will want to spend money on things like doorknobs, lighting, paint, etc. The last thing you want is to have to spend $5k (or more) on a roof when you really wanted to spend that money on upgrading the interior. I have a list of ten expenses to consider when buying a home that covers some of the major things you should check before jumping into a home purchase.

Your Income and Cash Flow

When it comes to a fixer-upper, many of the purchases can be put off for months or years. A renovation to an outdated kitchen can be literally put off for a decade if you want. Nevertheless, with a fixer-upper there will always be cash outlays. Doorknobs alone cost us $500 to upgrade in our house, and we still have another $100 worth to purchase that we decided to put off for a while. Paint is relatively inexpensive, but if you are painting 8 rooms it can add up.

What I'm getting at is that even without major renovations, there will be cash outlays each month that you need to budget for. Yes, homes are more affordable that are outdated and in need of upgrades (both large and small), but if the constant loss of cash flow is going to stress you out, it may be a good idea to rent and save money. On the flip side, if you can handle spending some of your monthly income on improving your house, a fixer-upper can be a great investment.

Your Preferences and Lifestyle

If you want to learn more about home improvement, a fixer-upper is easily the best way to learn. You can watch home improvement shows, read blogs and books on the topic, and even help friends and family with projects. Having your own house where you get to choose what to do will teach you very quickly how to perform home maintenance and renovations. If you want to spend time on these sorts of things, putting in a little sweat equity can benefit you long-term.

There are some situations where it could be a better decision to simply purchase a home that has been recently upgraded with no projects for you. For example, if you have chosen a career path that requires sixty-plus hours of your time each week, you may simply not have the time to perform all the work a fixer-upper would require of you. I personally would be very hesitant to buying a fixer-upper if I had children unless I was planning on hiring out a significant amount of the work.
As with pretty much anything in life, there are pros and cons to purchasing a fixer-upper. It can be a great investment for young adults, or a burden on their lifestyle and bank accounts.
What are your thoughts on purchasing a fixer-upper?
____________
Photo by T Chu