Should You Move Home After College?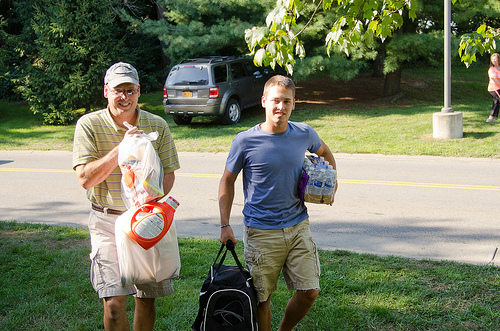 The following is a guest post. If you are interested in guest posting, please contact us for details.
You have moved away from home, studied (sometimes) gotten a degree and are ready to take on the world! Then you realize you can't pay rent, your loans and eat so you consider moving back home.
This is the situation that many recent graduates are faced with. So the question is, should you move home after college so you can save money and pay off debt?
According to a recent report the average cost of attending a 4-year in-state college during the 2012-2013 school year was about $18,000. This is an increase of 4.2% from the previous school year.
With the average student debt at all-time highs it is important for students to save money and pay off student loans in order to become financially fit. Many college graduates are finding that moving home after college is a great way to begin saving money.
If your parents were cosigners on your student loans they will have a vested interest in seeing you get on your feet and be able to pay off your loans. Even if you got student loans with no cosigner your parents will still want to see that your hard work getting a degree is not squandered.
4 Benefits To Moving Home After College
1) Save money on rent and bills
Depending on where you live, the average price of rent can range anywhere from around $350 to $1,500 or more! You can check average rent prices for homes and apartments in your area at Find the Data.
Living at home will also help you save money on bills such as gas, electric, television and water. Even if you pay a share of these bills at home, it is sure to be much cheaper than paying all of the bills yourself.
2) Live in a familiar town
The job market is competitive. Living at home in a familiar town and around familiar people may give you advantages over others in the current job market. Talk to friends and family to find out who is hiring and where the best jobs are located.
3) Take time to find the right job
Moving home after college can give you more time to focus on finding the right job or the best position in your chosen career. When you don't have to worry about rent or making ends meet each month, you have more time to spend searching for the right job for you. You may even take time to do volunteer work or take a lower-paying position to get into the career you want.
Being forced to settle get any job to survive immediately out of school could potentially result in you taking a job that does not use your degree or develop your skills.
4) Build good credit
Living at home may also give recent graduates time to build or fix their credit to allow for loan consolidation. It is important to have a good, stable credit score for the future when you want to rent an apartment or purchase a home or car. If you don't yet have any credit, now is the time to start building it. Paying off your student loans is a good place to start. Making on-time payments and reducing your overall debt is a great way to begin building good credit for the future.
____________
Life after college can be daunting for young, recent graduates. Besides the tasks of paying rent and bills and finding a job, recent graduates are also overwhelmed with student loan debts. Moving back home to live with family offers many benefits for the recent graduate, including giving them time to start saving money and begin paying down debts.
Jon Haver is the author of Pay My Student Loans.
Editor's Note: This is a hot topic for many people, and there is a whole range of opinions. I lived at home for a couple of years during college and was able to save money that way. Thankfully I did not have to move back home, and I do see a risk in moving back in that some young adults become very comfortable not having to deal with rent and sometimes even having their laundry done for them! With that being said, I can understand why some individuals choose to move back home to "get on their feet." If you do plan on moving back home, make it as short-term as possible and make a plan for when you will move out.
____________
Photo by Nazareth College