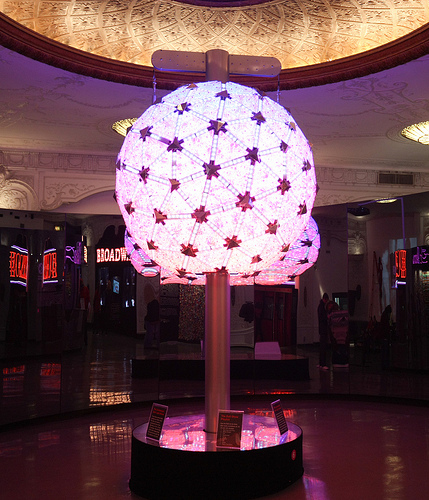 2013 is just around the corner and that means it's time to make New Year's resolutions. I am big on setting goals, though they are usually do not span an entire year. Nevertheless, I often set New Year's resolutions and like to see how well I do over the course of a year.
1) Exercise/Get in shape
This could be something simple like "work out three times a week" or it can be one big goal such as "run a half marathon."
2) Read a certain number of books
My wife and I competed this year to see who could read more books. She just finished her 25th. Let's just say I lost :(
3) Learn a new language
This is something I have always wanted to do, but it takes some commitment to actually follow through and learn the new language. I have a few friends who are fluent in Spanish and/or other languages, and it seems to be an incredibly valuable asset to have, especially in the United States where relatively few people are bilingual.
4) Get your finances in order
Getting all your finances in order takes time and effort. If it is not a goal and a priority, it won't get done. There will always be something else to take up your time and it will always be on the backburner. Consider reading my post 5 steps to take towards getting financially fit/ and set yourself up for success in 2013.
5) Cook 1 new recipe a week
Cooking one new recipe a week can be fun and save money in the long-run. This will help you become a better cook, have a wider variety of recipes to choose from, and will help you save money by eating out less.
6) Complete a home project
If you own a home, consider setting a goal of completing at least one home project. This will help you learn something new and (hopefully) create some additional value for your home.
7) Volunteer
People are busy and oftentimes volunteering ends up being the one thing that is low enough priority that we simply do not make time for it. If you want to volunteer, perhaps setting a goal of volunteering one day a month in the new year is the resolution for you.
8) Read the entire Bible
I included this in the list because it was one of my resolutions last year and it is something many people want to do but never get around to. Let's just say I failed this year at fulfilling my resolution, but perhaps I will succeed in the new year?
9) Start a blog or website
While I certainly do not recommend everyone start a blog or website because of the time it takes to maintain and update, if you have been thinking about starting a blog or website for years and years, setting it as a resolution for the new year may finally force you to give it a try. I spent over a year thinking about it before starting Young Adult Money, and I am definitely glad that I did start it.
10) Travel to a new place
It's easy to travel to the same place each year (or every few years if you don't take vacations every year), but traveling to one new place a year can help you see more of the world and will certainly create some lasting memories and stories to share for years to come.
11) Spend more time with family and friends
How many people can honestly say they spend as much time with their family and friends as they should? I think very few would agree. Making your family and friends a priority in the new year can boost your quality of life and deepen relationships.
12) Try out a new hobby
Is there a hobby or activity you have always wanted to try but never got around to? Whether it's golf, blogging, drawing, or something else, trying out a new hobby can be a fun alternative to the usual "painful" resolutions of weight loss and eating healthy.
13) Learn a new skill
I love dedicating myself to learning new skills, and you can bet that one of my resolutions for 2013 will be to either learn a new skill or continue to develop a skill I already have.
14) Manage your time better
Do you feel like you never have enough time? If this is you, set a goal of managing your time better in the new year. This can mean scheduling your day/week/month in advance or keeping a daily to-do list. You could go even further and track how you spend your time at work and home, and then review it to make sure it aligns with your values.
15) Drink less alcohol
Nothing is wrong with having a drink here and there. If you have gained weight because of your alcohol consumption or oftentimes consume a little more than you should, it may be time to start consciously trying to limit the amount of alcohol you consume.
16) Eat healthier foods
Many people will make a resolution to "eat healthier" in the new year, but most will fail. Set achievable goals like "only drink 3 cans of soda a week" or "consume 3 fruits or veggies a day" instead of an ambiguous goal of "eat healthier." Check out my wife's post on ways to eat healthy on a budget.
17) Get out more
Do you stay in every single weekend? This might be the ideal resolution for you. As an introvert I totally understand the need to stay in and have your quiet time, but on the flip side you are not going to meet new people unless you are willing to get out.
18) Be forgiving
Being more forgiving is definitely something that pretty much everyone needs to work on. The beauty of forgiving others is that it is not dependent on them; forgiving is not about the other person being sorry for wronging you. Instead, it's more about coming to a peace with the situation and moving on.
19) Step outside your comfort zone more often
I am absolutely terrible at stepping outside my comfort zone. If you do set a resolution to step outside of your comfort zone, consider making specific goals related to this resolution. For me it would definitely be speaking in front of large groups more often. I am terrified of public speaking. What would you do to step outside of your comfort zone.
20) Make more money
There are a ton of ways to make more money. It can come from pursuing side income or making more at your full-time job. The sky (and your determination) are the limit when it comes to making more money.
______________
Even if you don't like setting New Year's resolutions, consider thinking about what you want to accomplish in the new year and try to figure out what you will need to do to reach those goals. I will be writing a detailed post of my own New Year's resolutions and goals sometime before the end of 2012. I haven't even finalized them, but just thinking ahead a year about what I want to accomplish has been extremely valuable.
Do you have any resolutions to add to this list?
____________
Photo by -JvL-