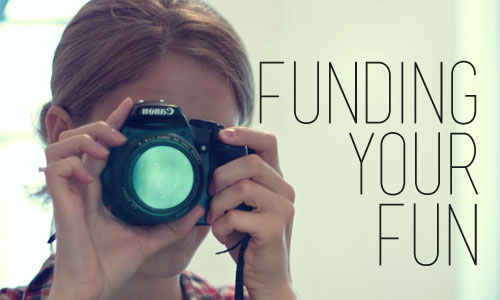 The following is a guest post co-written by husband/wife duo, Johnny and Joanna. They are a 20-something couple with five years of marriage under their belts. And while they've finally figured out the gist to managing their money, they write about their love-hate relationship with finances at the aptly titled blog, Our Freaking Budget.
It took us several months after graduating from college to come to terms with the fact that the rest of our lives would mostly be spent working. Working for the man. "Is this really what adults do?" This was the question on our naive minds as we'd shuffle out the front door before sunrise to go to our full-time jobs. And no matter where we looked — up, down, or in the mirror — the answer was a resounding, "Yes. This is what adults do." It was a difficult pill to swallow initially. But then we started getting paychecks — real-life money. And all our self-doubt and introspection dissipated as we started spending some of our paychecks on fun things for ourselves. We didn't feel like such sell-outs working 40 hours a week once we realized that we had money to spend on hobbies and entertainment.
But the only way we can enjoy spending money on fun stuff is by making sure we still have money left over for bills and savings. It's an intricate balance to strike, one we're still working at. So how do we maximize our number of hobbies and entertainment options, while not spending too much on them? And while we don't always see eye-to-eye on everything, here are a few tips we've both found to be helpful.
For Entertainment (according to Johnny)
Don't pay a dime for music

Easier said than done, right? Not really. Thanks to programs like Spotify, personalized playlists are just a click away. If you've got Internet, you've also got a boatload of free music at your fingertips. And what about concerts? If Joanna and I went to every concert we wanted to, it'd start breaking the bank. So when it's not a must-see show, like Taylor Swift live in concert, we look up that artist's live stuff on YouTube and create a video playlist that's identical to the live set that would have been played at the concert. It's cheap and gives us our concert fix (and even without that strange smelling cloud that covers most venues).

Never pay full price for movies

So you're worried about being the lame-o that recommends seeing a show during matinee hours? Joanna and I have been surprised to find that most of our friends are just as lame as we are and are happy to comply. Surprisingly, if it means saving a few bucks, most people are on board. And another plus is that the matinee crowd tends to attract more calm and collected theater goers that are awake by 11am on a Saturday (like senior citizens). Dollar theaters are also a great option.
For Hobbies (according to Joanna)
Have the hobbies pay for themselves

Sound harsh? These are hobbies, not little children. From photography to knitting to woodworking, most hobbies can also be considered a skill. After the introductory supplies needed for our hobbies, Johnny and I don't buy any other items. Instead, we sell the skills or items acquired from our hobbies to pay for more equipment/supplies. Or if you're terrified/uncomfortable selling your skills (like I am), find freelance work relating to your real career to pay for your hobby's equipment supplies.

Have others gift your hobby to you

This may sound selfish. But each year without fail, my parents, in-laws, siblings, and husband ask what I want for birthday gifts or Christmas gifts. And I think they legitimately want to know, too. So if they ask, and if there's something hobby-related that I'm saving up for, I let them know. And they usually give me a gift card or cash to put toward that item. They're happy, I'm happy, we're all happy. Ta-da.
s
So although we have the right to spend every dime we make on hobbies and entertainment, we try to resist by following those guidelines. And when we can't resist concert tickets or a new toy of some sort, we make sure to check Craigslist first before paying full price. Today's world comes with a lot of "entertations" — our new word for entertainment temptations. But with a little extra effort, we don't have to spend any more than we want to.
What about you? Do you struggle with entertations? Do you hate our made-up word? What are your tricks for having fun without spending too much?
Editors Note: These are some fantastic tips from Johnny and Joanna on how to save money on entertainment and hobbies. I have written about Spotify in the past and I'm a huge fan. Because I use it at work, I pay the $10 monthly "premium" package so that I can have it streaming on my phone. I literally have an unlimited amount of music for just $10/month. I also love their idea of pursuing hobbies that pay for themselves. One thing I would add to their list is making use of the library for free DVD rental instead of buying them.