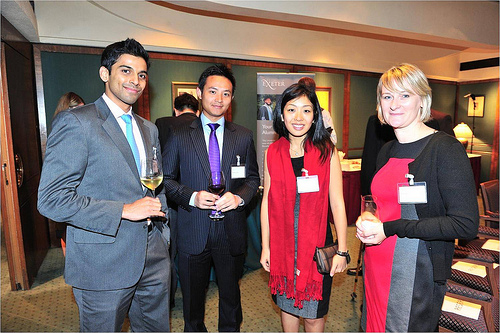 I'm sure you have heard the phrase "it isn't what you know, but who you know." While having a relevant skill set is obviously a necessity in today's economic environment, it's also important to know the right people. Networking can help you hear about potential job opportunities, get an "in" at a company you want to work at, or benefit you in a number of other ways. Having someone personally refer you to a job can never hurt.
Attend Networking Events and Meetups
There's pretty much an unlimited number of professional groups, networking groups, and meetups. Just to use me as an example, there are a number of meetup/networking groups that are relevant. They include the Young Professionals of Twin Cities, University of St. Thomas Young Alumni (which one of my friends actually heads), and Minnesota Personal Finance Bloggers. This really only covers three major meetup groups; there are many other groups that I could have mentioned for Minnesota alone.
While attending meetups takes more time and effort than some other networking strategies, you can often make more of an impression when you are meeting people in person versus online or through the phone.
Use Social Media
I have to first mention the most valuable social media website for networking: LinkedIn. Recruiters roam LinkedIn looking for potential candidates to fill jobs. Even if you don't log in that often, simply having an account on LinkedIn may lead to some good connections with recruiters/headhunters in case you are ever looking for a new job. If you are active on the site, there are many groups that you can use for networking such as alumni networks, professional groups, or company pages.
For me, social media is all about potential; you never know who you will meet or who will come across your page. Three examples:
I got a side job during college from meeting someone through blogging. They owned a successful blog and hired me to do social media, marketing, and search engine optimization (SEO). Even though it has been years since I worked for the site, I still stay in touch with them today.

I met Brandy Green of Ghost Hunters International on Twitter, and she ended up doing an awesome interview on very short notice for this site.

Peter Anderson of Money Matters has been a great reference for me and I met him through another person I knew through social media.
I could go on and on about this topic, but the main point is that connecting with people on a social media platform can be easy; most people who are active on social media are looking to connect with a wide range of people and are very open to networking with others.
Never Discount Someone's Network
One of the biggest mistakes people can make is discounting someone's network. When we meet someone who doesn't have a prestigious title or seem like they won't be able to "help you out," it can be natural to write off their network. This can be a huge mistake. You never know who they know, and you certainly can't predict who they will connect with in the future. Approach everyone with humility and avoid the habit of only trying to meet those in your career field.
____________
Networking is certainly not the only way to find a job, but in some cases it can be the difference between landing a job or coming up just short. Beyond that, you never when a friend-of-a-friend is someone working at a company you want to work at. Leveraging your network is essential, so make it a priority to build good contacts and above all, have fun meeting others.
Do you network? How has networking benefited you?
____________
Photo by University of Exeter