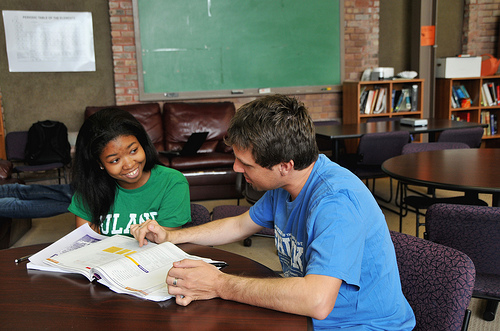 The following is a guest post from Pauline Paquin, a French girl who has recently started to blog over at Reach Financial Independence. Born and raised in Paris, Pauline blogs about how she has been traveling the world for the past 10 years, while trying to build wealth and achieve financial independence, and how you can follow your dreams and reach your goals. You can follow Pauline on Twitter @RFIndependence.
A few days ago, DC mentioned a blog called Deliver Away Debt. Jeff, the author, talks about how he took a pizza delivery job in order to pay off his debt faster. It is not easy to find time for a side hustle when you have a full-time job already. But those little bits of extra income here and there will allow you to kill your debt much faster than your regular paychecks. Here are a few ideas of jobs that should not affect your day job obligations.
Take a night shift
If you are working a strict schedule and leave work relatively early, you can follow Jeff's model and work at a part-time night job. Pizza delivery is one of many. You can be an office cleaner, a bartender, or a night clerk in a hotel. Usually the minimum shift will be approximately four hours. If you worked as a barista and made $10 per hour, you would have $200 more per week that you can throw at your debt. Try to find a workplace close to home or your day job in order to limit your commute.
Work weekends
We all need a break on weekends, but if your goal is to kill that debt as fast as possible you can look into working on the weekends. Temporary work, like catering at weddings or working at business fairs, can help you get the best of both worlds. These events happen a few times a year and allow you to work on specific dates only. They offer more flexibility than a regular night shift and usually pay slightly higher. The jobs can be physically demanding, and you may have to stand for several hours. One of the benefits is that you should get paid on the same day or by the end of the event.
What I like about these jobs is that they do not require much thinking, which can be a nice change of pace if you work an office job during the week. You can get there, do your job, and leave and get on with your life. Getting another stressful job on top of your day job can lead to a quick burnout, so be picky about what weekend work you take on.
Teach
The hourly rate is great for tutors and instructors, although you have to factor in the time it takes you to get to the class and back. I used to tutor kids after work for an hour and made about $30 an hour, four days a week. It took a bit of preparation beforehand, but once I had researched it for the first student, I could bring the same material to different kids.
Every trimester, your community center is probably looking for yoga instructors, pottery teachers, language professors, etc. Offer to hold a two hour class to make best use of your time.
Freelance
If you have web design, translation or marketing skills, you should easily be able to find freelance work that will work around your day job schedule. Elance and Taskrabbit are good places to start looking for work. Find a project that you like and offer to take it on. Your rate should take into account all the time needed to complete the task to the best of your ability. On completion, you will be rated by the customer and having a good rating boosts your chances of finding additional work.
Sell Stuff
Going through your attic and closet, there is probably a ton of stuff that you could get rid of. Do not stop there. If you are crafty enough, you can sell your homemade items on Etsy. Making crafts requires a small upfront investment, but if you enjoy crafting it can be a fun side income. Garage sales and consignment shops are also great places to look for cheap items that you can resell at a profit.
Do you have a special skill?
Use it! Start by defining what your skill is.
If you bake delicious cakes, offer to cater for birthday parties. At each party, you will have fifteen kids and as many moms who could become your next client.

If you can fix a computer, put an add on Craigslist at an attractive rate, and grow from there.

I taught the piano to teenagers. Most of the kids were referred to me and I was always fully booked.

A friend is a hairdresser and offers haircut to groups of friends at night. Five friends gather at one's home and she cuts everyone's hair while the girls have a snacks and cocktails.
Rent a room
Do you have an extra room at home? You can look for a tenant, or rent it temporarily to tourists and exchange students. Yes, it can be annoying to have people at home, but the time involved in additional cleaning and changing the sheets once in a while is not much, giving you a high hourly rate. By renting a room for $500 a month you could pay $6,000 towards debt, and much more if you are in a desirable location.
Editors Note: These are all great tips for bringing in additional side income. I personally blog and do some spreadsheet consulting on the side to make side income. While it can be difficult working your full-time job and then coming home and doing more work, it can be rewarding. Making additional debt payments or padding your savings makes it worth it. I would highly recommend at least looking into what you can do to make some money in addition to your full-time income.
What do you do to kill debt faster?
____________
Photo by Tulane Public Relations