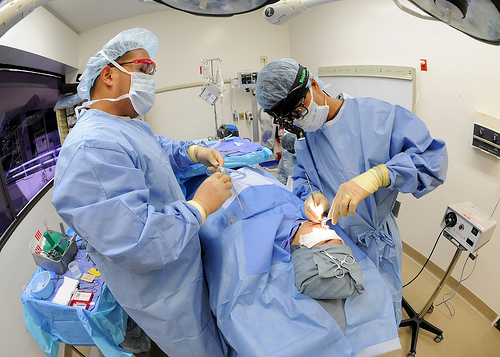 Throughout the past year I have had chronic sinus issues (also called sinusitis) that eventually led to surgery. I had a septoplasty and endoscopic sinus surgery.
When I first found out that I had to have endoscopic sinus surgery and a septoplasty, I was totally in the dark as to how much the procedures would cost. By writing this article I hope to save you – or someone else you know who is having sinus problems – some time and frustration.
What is the operation?
First let me explain what each of these procedures consists of:
Septoplasty:A septoplasty is a procedure that straightens a deviated nasal septum. A nasal septum is the partition between the two nasal cavities. During the procedure the surgeon will move around, and in some cases even take out, small pieces of cartilage or bone found in the nasal cavity.

A deviated septum sometimes pierces the nasal cavity, causing constant irritation and a high risk of chronic sinus infections. Beyond that, it can contribute to breathing problems because of the restricted airflow.

Endoscopic Sinus Surgery: Sinus surgery usually consists of removing polyps from the sinuses. According to the Mayo Clinic:

Nasal polyps are soft, painless, noncancerous growths on the lining of your nasal passages or sinuses. They hang down like teardrops or grapes. They result from chronic inflammation due to asthma, recurring infection, allergies, drug sensitivity or certain immune disorders.

While endoscopic sinus surgery removes nasal polyps, it is fairly common for them to return. The good news is that small nasal polyps may not have symptoms. Larger polyps, though, may cause the severe sinus infections that made you seek out surgery in the first place (or will lead to surgery in the near future). I personally had a small group of polyps return. My surgeon told me that polyps often build on each other, which means it's super important to visit your doctor because the odds of you fighting nasal polyps on your own without medication isn't very good.

Sometimes a septoplasty must be done for the surgeon to get at the polyps that are in your sinuses. When I was being examined by the Ear, Nose, and Throat doctor (ENT), he had trouble getting the scope all the way back in my sinuses because of how deviated my septum was. These surgeries are often done in tandem since someone probably wouldn't make it all the way to surgery unless they were suffering chronic sinusitis or some other issues caused by their deviated septum.
Pre-Surgery Costs
Before I get to the costs of the surgery itself, let me explain what led up to the surgery itself and the costs involved:
Initial doctor visit and prescription of an antibiotic:

$170

(after $50 insurance discount)
Two rounds of antibiotics including a steroid:

$100

Second visit to doctor #1 – another round of antibiotics:

$170

(after $50 insurance discount)
CT Scan:

$337

(after nearly $700 in savings – see my post about it here)
Third visit to doctor #1 – referral to specialist:

$170

(after $50 insurance discount)
Visit to the ENT specialist:

$450

Pre-Surgery Physical and blood work:

$200

(includes $50 insurance discount)
Approximate Costs Leading Up to Surgery: $1,597
I should point out that I have a high-deductible plan that has a Health Savings Account (HSA). My deductible, or the amount I have to pay before the insurance company starts paying for anything is $2,200. Because of that, the entire $1,597 was paid by me out of pocket. As you will see below, the surgery "maxed out" my insurance as my plan had an out of pocket maximum of $3,300, which I most certainly hit from all the costs involved in the surgery.
The Cost of Surgery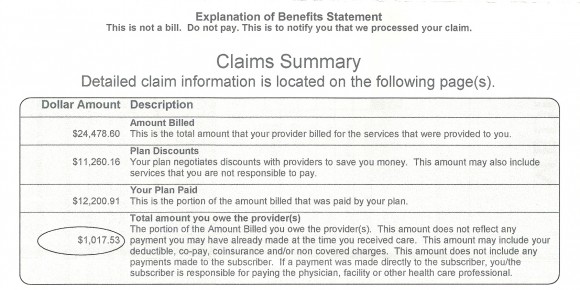 Please note -> costs will vary by plan, doctor, hospital, etc. I am showing you what I was charged to give you a general idea of what septoplasty and endoscopic sinus surgery costs.
As shown in the explanation of benefits above:
Amount Billed:

$24,478.60

Plan Discounts:

$11,260.16

Your Plan Paid:

$12,200.91

Total Amount you owe the provider(s):

$1,017.53
Without insurance I would have been on the hook for a whopping $24,478.60. I don't know about you, but with that in mind I will happily pay my $3,300 out of pocket for the year. The most important thing to realize with insurance is that it is to insure you against large, unexpected bills. At the beginning of the year I could never have predicted that I was going to max out my insurance, let alone go through surgery.
Dealing with the Costs
When it comes to paying for sinus surgery, the best approach if you do not have health insurance is to get it as soon as possible. You could easily be saving thousands upon thousands of dollars (especially if you are having surgery). Look at my write up about why you need health insurance or enroll today at eHealthInsurance.com.

If you do have health insurance, make sure that your surgeon and anesthesiologist are in your network. It may take some extra time (I am constantly blown away by how time-consuming it can be to verify that doctors, hospitals, etc. are in network) but you will definitely thank yourself later. The last thing you want after recovering from a surgery is a bill that is twice as large as you first expected.
Recovering from Surgery
There are costs involved with recovery as well. It can take up to a week (or longer) to fully recover, especially if you are having a septoplasty and plastic splints are in your nose. The biggest struggle for me in my recovery was dehydration caused by the splints. With the plastic splints, it becomes nearly impossible to breath out of your nose. At night you will only be able to breathe out of your mouth, which you will realize very quickly dehydrates you significantly. I can't describe to you how happy I was when I got those splints out.
____________
Please feel free to ask any questions related to septoplasty and sinus surgery in the comments below, and please pass this along to anyone else who is looking into sinus surgery.
____________
Photo by MilitaryHealth