Being in good health is priceless, and staying in good health requires that you have access to health care. Nevertheless, there are millions in the United States who are not covered by health insurance. While I do not pretend to know every person's financial and life situation, I hope by the end of this post that those who are not covered realize the value of health insurance and move forward with getting coverage.
Last weekend I helped my sister move to a new apartment. After finishing the move, the group of us who helped with the move went out to eat. While discussing various topics, health insurance came up. I found out that one of my sister's friends did not have health insurance, and she didn't seem overly concerned about not having it. After hearing another story of another young adult who is going without coverage, I felt the need to write a post that explains the benefits of health insurance and why everyone needs it. I see health insurance as an absolute necessity and a safeguard against unexpected expenses that can wreak havoc on our finances.
First off, the purpose of health insurance is to insure you against the risk of high medical bills. Every single person is carrying a potential risk of a high dollar medical bill. Many of these high dollar medical bills, or claims, are unexpected and/or unpredictable. Insurance companies are taking that risk away in exchange for monthly premiums and some cost-sharing on your part (but only up to a predetermined out of pocket maximum). They can take on the risk much better than any one person is able to (unless you are Bill Gates or Warren Buffet).
To show the benefits of health insurance, it can be useful to look at what things would have cost without insurance coverage. In the past year, these are the costs I would have been responsible for if I was not covered by an insurance policy:
Appointment with a Family Practice Doctor (x2):

$500

Appointment with an Ear, Nose Throat Specialist or Pulmonologist:

$450

Septoplasty and Endoscopic Sinus Surgery:

$22,000
Not counting prescriptions and a pre-surgery physical, I would have been on the hook for at least $22,700. Because I have health insurance coverage, I only had to pay my monthly premium plus $3,300. That's a huge difference. Before 2012 started, I did not expect that I would have to go to a specialist or have surgery. I would have estimated that I would only have needed a few hundred dollars for checkups.
There is always a risk of an unexpected medical bill, and if it is a surgery or a hospital stay, you are easily talking thousands upon thousands of dollars.
Don't let the lack of health insurance set you back financially. Medical claims can easily reach levels that drive people to bankruptcy. The good news: there are options available to you if you are not currently covered.
The easiest way to shop for coverage and enroll in health insurance is through eHealthInsurance, an online broker of insurance plans. eHealthInsurance has over 7,000 health insurance products from over 160 healthcare providers.
To view the plans available to you, first head on over to eHealthInsurance.com. Once you are there, choose the type of insurance you are looking for.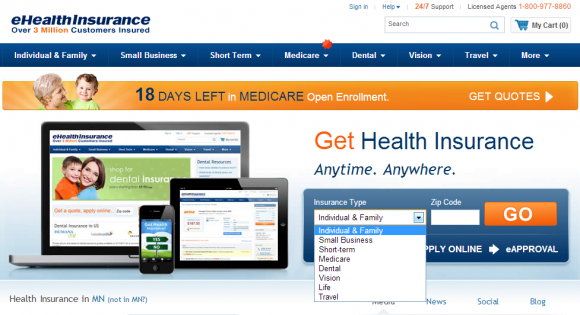 Next, plug in your information. If you have a family member that also needs coverage, include their information as well.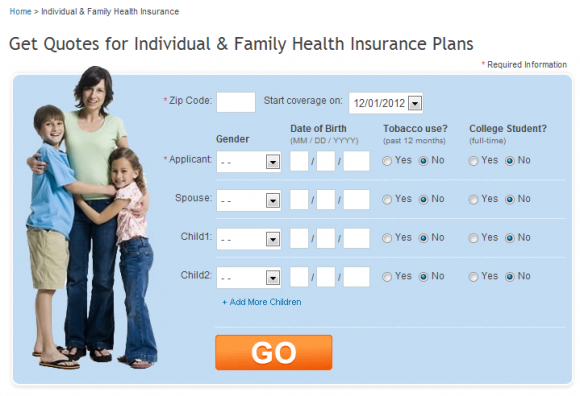 Click GO to view deals. There will be offers from various health insurers with various rates. Before you think the rates listed are too high, realize that this is to prevent something catastrophic that will leave you with hospital bills in the tens of thousands of dollars. Also realize that when health insurance exchanges open on January 1st, 2014, there should be more competitive rates available to those who are not offered health insurance through their employer. Until then, you will have to purchase through the private market if you want coverage, and eHealthInsurance is the best marketplace out there right now.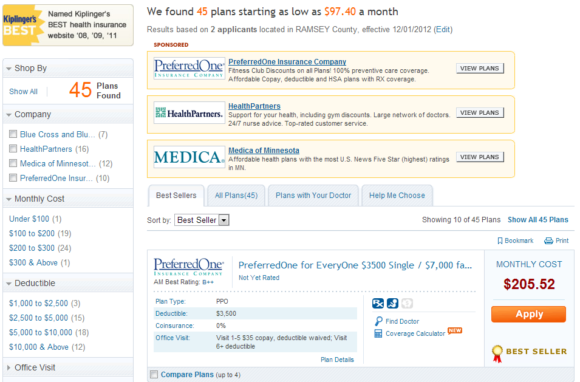 Plans will vary in deductibles, out of pocket maximums, and monthly premiums. Lower monthly premiums are not always better, since deductibles may be higher for these plans. A deductible is how much you owe before the insurance starts covering costs. Some high deductible HSA plans are very desirable and I highly recommend them. Other plans may have a higher premium, but the deductible is usually substantially lower. It all depends on your situation – find the plan that is right for you.
Don't put off your purchase of health insurance. Having health insurance will protect you against hospital bills that threaten your financial livelihood. If I hadn't been covered by health insurance, my yearly medical bills would have been closer to $25,000 rather than the $3,300 I paid as an out of pocket maximum.
I will be writing posts about health insurance every now and then because it can be such a large expense in life, and the costs can come up very unexpectedly. Trust me – I may be maxing out my health insurance two years in a row, almost entirely from unexpected expenses.
_________________________________
Full Disclosure: I do work for a major health insurer, but this post was in no way sponsored by a health insurance company (let alone my employer) and these opinions are my own. I truly believe everyone should have health insurance, especially considering the fact that more affordable insurance should be available through health insurance exchanges starting in 2014.